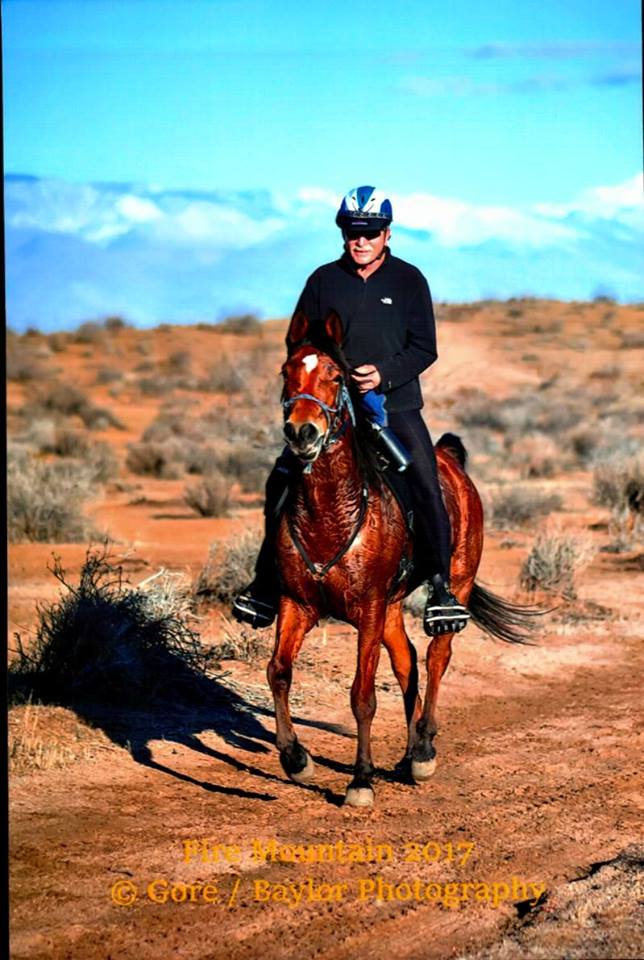 Baylor/Gore Photo
Fire Mountain 50, 2017
I had a great almost week down in the desert with only one glitch. I
got really lucky driving down on Tuesday, leaving the Bay Area in the
rain, and arriving in Ridgecrest in nice weather. Tuesday evening the
storm blew in and closed highway 395 due to the high wind. Whew! That
was close. Ride manager Gretchen Montgomery put me up in her house
again with pens for my horses. (The ride base camp is a 5 minute walk
away)
On Wednesday (after the daily morning hike in the hills) I went out on
the bike and worked on the 20 Mule Team trail in the wind. Wind does
not bother a dirt bike much. I figured out the new route to the 395
crossing since we can't use bikes or quads any more on the old trail,
and then scoped out the new 50 mile trail in the morning. I rode the
whole 50 to check mileage. The desert was wet, which makes it
perfect. Such fun!
On Thursday morning, in nice breezy weather, after the hike I got to
work on the fire mountain trail. Gretchen has guys who mark it, then I
go out and fill in ribbons, put chalk down on the turns, put up signs,
and then ride it backwards on the bike to be sure it is marked okay
for day 2 which is the day 1 trail in the other direction. I noticed I
was coughing and sneezing a little, uh oh. The clouds rolled in as I
finished loop 1; I headed out on loop 2 and was high up on the ridge
when the front came in. I could see this black wall of rain heading
right towards me, and yes, it hit. Whammo! The wind came, and it
poured, hard, and even hailed. I continued with the trail, enjoying
all of it but the cold. Wet desert is magic on the bike! Unfortunately
my soaked gloves made my hands freeze, so bad that I had to stop and
put them on my engine to warm them enough to open the clothes pin on
the ribbons. The chalk was also useless in the downpour and wind. I
finished the loop soaked and cold, and after a lunch break and drying
out period, I finished the third loop in the sunshine. Thursday night
brought more coughing and a sore throat, oh great. Just what I need.
After a short hike on Friday morning, Gretchen rode my Donnie with me
on Sorsha, along with Peggy on Gretchen's Coquette for 90 minutes or
so. It went well except for a couple of spooks from rabbits. We spent
the rest of Friday getting ready for the ride, with Gretchen doing
tons of stuff, and me running errands and putting up signs out on the
trail. The weather was supposed to clear, but it remained overcast
with light rain on and off all day, and pretty cold. My riding buddy
Ines Hofmann Kanna drove down on Friday afternoon to ride Donnie with
me on day 1. She stayed in my camper at base camp while I lounged with
my horses in the Montgomery Hilton, 5 minutes away. She camped next to
Brenda and Jenni, but poor Jenni could not start due to her horse
being lame on Friday night. Late Friday night I knew I was
sick. Perfect. I did the best I could to sleep, but it wasn't much.
Saturday morning came clear and cold, and zero wind. Finally! At 5:30
am, sick as heck, I walked the two horses over to base camp and we
tacked up and headed out at 7. We rode out at the back of the pack
with Kristin Ojala from the Bay Area on her nice mare Lani. She and I
have been riding a little up here, with her helping Sorsha get used to
other horses. Sorsha did pretty well at the start with so few horses,
but she's still too sensitive to horses being behind her, and in front
of her if it's not Donnie. She's a little competitive in the
morning. I can't thank Ines and Kristin enough for helping me the
whole ride. I'd just ask them to be in front of me, or behind me, or
further behind. They were helping me do my ride on my young horse, and
I really appreciate it. Sorsha did really well passing other horses
and when other horses passed her- this was a real issue in my two
rides. I was very pleased when a horse cantered past us, and she did
okay when the 4 limited distance leaders came flying by later on. The
first loop is 15 miles, some rocks and climbing, but a lot of nice wet
desert. I had a strange problem in the last half of the loop- I was so
sick that my eyes were burning, and the wind from riding was killing
them. It made them burn, and it was so bad that I actually rode the
last 4 miles or so with one closed the whole time, and sometimes
both. That was weird. Blind Endurance! The first vet check went
perfectly, I spent the 30 minutes with my eyes closed. I tried eye
drops which them burn more. I had an idea- I had my bike stuff here,
so I put a pair of dirt bike goggles on over my sunglasses, then put
on my horse helmet. I looked really stupid, but it worked! Perfectly!
I rode out of camp on loop 2 looking like a bug, but it solved my
problem, and I could see again! And the goggles matched my helmet!
Ines thought I should have done that for the pictures, but no. The
weather was as nice as it gets in the desert- clear, cool to warm, and
calm. I had a little bit of young horse excitement on loop 1, nothing
bad, but it's just not like riding Donnie. It's fun to ride along with
him with another rider on his back. It's a neat view of my best pony I
don't get to see that often! Loop 2 turned into a fantasy ride; I left
camp in a tee shirt. Sorsha was perfect, well, almost. Just once when
Kristin came up a little close Sorsha did a little kick backwards:
Kristin backed off a little, and that was that. It was absolutely
fun. Ines and I took turns leading; Sorsha really prefers to be in
front, which I love. And this horse can move. What a motor! Kristin
led us down the valley for a couple of miles at a quick pace down to
camp for our lunch on a fantastic trotting trail. I told someone at
the check that if this were a test ride on this horse, I'd be getting
out my big checkbook. She was absolutely splendid. If I sound happy I
am. Wait till this horse is fit, and gets a few more rides under her
saddle! The hour lunch went quickly, and off we went on loop 3. This
loop has some fantastic trotting on it, which we did in wet perfect
desert. We picked up Tim Martin on his new mare after his wife was
pulled. Sorsha was even better on this loop. She just motored along,
her motivation and forward attitude never once even feeling any
different than she did at the start. I just LOVE it when you ask your
horse to trot from a walk, and they just spring forward, instantly,
even on the way out from camp. Donnie has always done that. The four
of us just bopped along the whole way, and we even survived the
infamous recliner chair that has been marking a turn for years. Sorsha
drank well all day, and was eating the desert vegetation as we
went. At the last water Tim led his horse for a while, so the three of
us trotted down to the finish just as the sun was setting. The
temperature started dropping about a degree every 5 minutes, but
that's what it does out here. The horses vetted out great- Donnie with
his always CRI of 44/44, and Sorsha was at 40/40. This was her second
ride! Well, technically third, since I stopped because of me at gold
rush shuffle because of the weather. We had a nice ride dinner, and at
about 7:30 I led the ponies back to Gretchen's, put them up, went to
bed and slept for 12 hours. I was sick, and no way was I going out on
Donnie again today. Didn't matter- he blew through the ride as
usual. I loaded up and sneezed and coughed my way home on Sunday.
It was a great trip where I got to ride both the bike and horses in
the perfect desert, which I really love. I'm happy beyond words with
how Sorsha is doing. Wow. Thanks to Gretchen and Mike for putting me
up in their house- it's a plush way to do a ride. Thanks to Ines and
Kristin for really helping me on the ride. Ines said I really had to
twist her arm to come down to ride Donnie. Next stop- 20 mule team. I
have not decided what I'll do yet. I'd like to ride both horses again
like this ride, but also want to do the 100 on Donnie. We shall see.
It was hard to hear that our dear friend Jackie Bumgardner passed away on Tuesday, the day I arrived. It was not unexpected, but that does not make it any easier. We will all miss her very much. There will be an unofficial small memorial service for her at the 20 mule team ride, a ride she founded, on Friday after the riders meeting. It will be a chance for people to celebrate her life and share a couple of stories about her. I have some. Godspeed, Jackie.
More on the ride at:
2017 Fire Mountain on Endurance.net