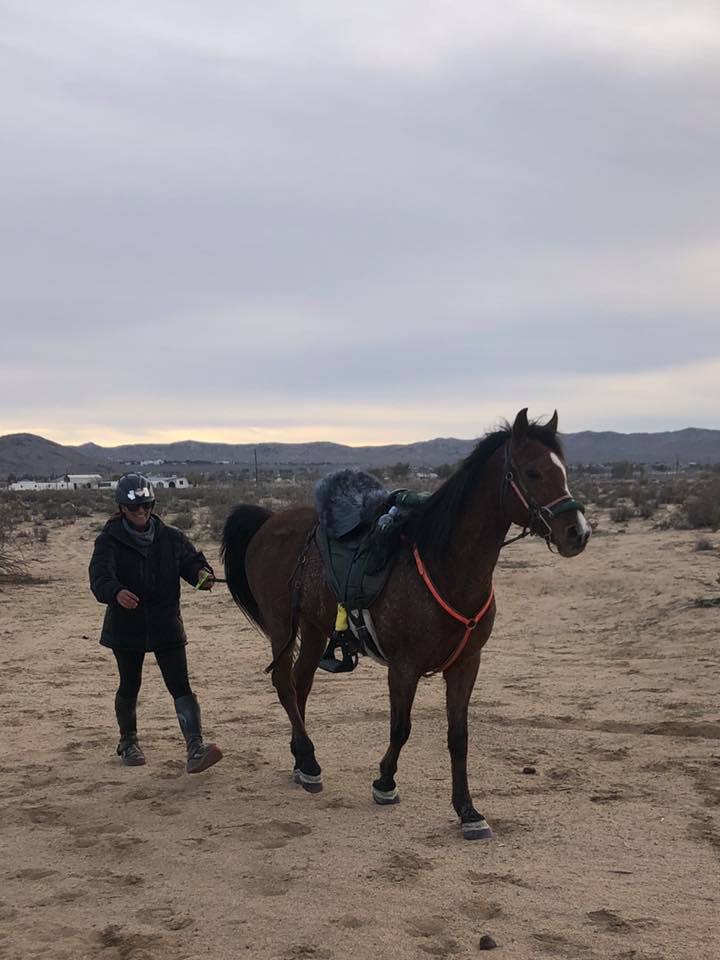 February 24 2019
I'm always enlightened by my fellow endurance riders. As we drive home from the 40th annual 20 Mule Team Endurance Ride, I'm heartened by the many stories that were shared over this past weekend. For some people it just wasn't their weekend, while others were floating on cloud nine and ecstatic with their horse's accomplishments. It doesn't matter the distance but it's more about the process that one goes through to get out there and do it.
With the recent weather, I'm sure there were many who couldn't come but for those who did, I sincerely applaud their efforts. There were first timers in all distances and then there were folks like Laurie Birch who rode her mare Scud Run, completing their tenth 100 miler and reaching her horse's 11,000 mile achievement. It's truly mind boggling.
Kudos to my friend and frequent training partner Lisa Rushing for braving the snow and ice and still coming out with her horse Razor and completing the 35 miler. She often makes the trek all the way down to Malibu and we spend hours together climbing mountains and conditioning the horses. They are committed to building strength and confidence and will soon be doing the 50 -100 milers. I look forward to that day!
It was on this ride a few years ago in 2015 that I rode the 100 miler with my good friends Carlita J Roberts, Helen and Marci Schmidt Cunningham We had such a fantastic ride that year and I'll always remember them passing by my trailer in the morning to pick me up so that we could ride together. This year Carlita did it once again completing the 100 miler with nothing but giggles and smiles. She is so inspiring and her wealth of energy is off the charts. She is always happy and having a good time. This morning we joked about how it was our 4 year friendversary and I feel blessed to have met her at such an iconic ride. She is as special as the history of this ride, which always reminds me of its earliest beginnings when Jackie Baumgardner got it all started. In fact John was given a special recognition award this year for his volunteerism after all these years. He rode the very first ride and is humble as pie and an unbelievably sweet man.
During the ride, Cheeky and I had the pleasure of sharing the trail with a variety of friends over the course of 65 miles. It was truly a solo ride for us with intermittent join ups that always left us smiling. Allan Horn on his hot mare Rosie went on to finish in the top 5 but there was a time when he slowed her down and we got to chat for a mile or two. She's an impressive girl who reminds me of my Glorianna, with her busy mind and flawless movement. Allan is a big guy and his girl carries him with ease. It's quite a site to see.
On a few occasions, we rode together with Crysta Turnage She is the ride manager for the Virginia City 100, which Cheeky and I also completed back in 2015. She shared with me how much she loves putting on the ride and said that she has a lot of great helpers to rely on. She's a project manager by trade so keeping the ride going is her passion and a skill that she has lots of experience at doing. She also hosts AERC clinics and actively contributes to our sport. I enjoyed listening to her many achievements, while I admired her horse as we trotted alongside one another for several miles.
My longtime friend Lisa Schneider was out there on her boy Sky. We have done many training rides together and although we have not seen each other much of late, it was great to see them floating down the trail. Lisa lives in an area that was affected by the fire and most recently the rains. Her road and its bridge have been washed out for months now making it extremely difficult to get in and out with a rig. I look forward to the day when all that mess gets cleared and we can resume training. She and Sky enjoyed an impressive ride with an 8th place finish.
Terrie LaPorte had a very unfortunate dismount after completing nearly 90% of the 100 mile course, when her horse suddenly spooked and she found herself on the ground. Her story is harrowing but in true Terrie spirit, she managed to make it back and her horse is fine too. She's another gal who loves endurance and no matter what's thrown her way, she has goals fulfill and ain't nothing stopping her.
Above all I'd like to express my deepest admiration for my horse Cheeky. He carried me with enthusiasm and purpose from the start until the finish. His vet card was testament to his level of fitness and his ability to take care of himself throughout the ride. I loved our time together and my heart swells with pride and sincere admiration for my special boy. He worries like me but always gives it his all and uses his skills to get us through. I wanted to finish before dark and he made that happen for me. We also crossed the finish line with all four of our grape colored Renegade Hoof boots... thx Gina Lander for sending us the good luck color 💜 Cheeky had lots of attitude as he showed off for Juan who was out there cheering for us from the start until the finish. It was a magical ride and we thank all the volunteers, veterinarians and ride management for making it happen.
Lastly... I want to thank all those responsible for gifting me the gorgeous Virginia City 100 sterling silver belt buckle. I never dreamed that would happen. I thought I didn't want "stuff" anymore since the fire but this buckle has made me smile and it's a beautiful reminder of one of Cheeky and my greatest achievements together. The inscription on the buckle is priceless and says it all. Please believe me when I say that my heart is completely filled with emotion and gratitude and total surprise that y'all did that for me... Muchas gracias from the bottom of my heart.