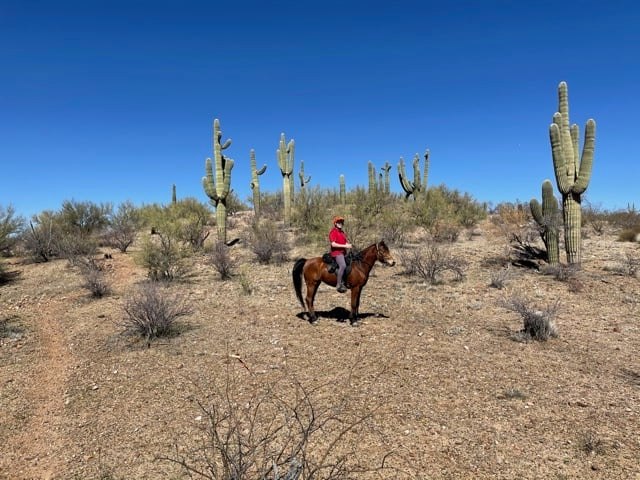 2/27/21
by Nick Warhol
I had one heck of a week! it started with my truck breaking down AGAIN the day before I was supposed to head to Arizona from the bay area for the Land of the sun ride in Wickenburg. I was planning on staying at Brian Reeve's place on the way down, then he and I were going to Ridgecrest for a day and a half to work on the trail for the upcoming 20 mule team / fire mountain combo ride on April 10th. My transmission failed again on the way back from a local ride with Judy and Donnie on Saturday. Sometimes my luck does work- the tranny was replaced 20 months ago, and the repair had a 2 year warranty. Whew! Its in the shop now getting fixed under warranty, but once its back it will never tow a horse again. Not to mention it was serious luck that it broke before the day before I left for my week-long trip. I called Brian to cancel and he said: "No, use one of my trucks!" He told me to drive down to his place in Squaw Valley, Ca, (not the ski place, the one near Fresno) and leave my car and take his dodge dually home and the trip is on as planned. He and Val have a really nice ranch setup in the hills near King's Canyon. Their generosity was unbelievable. I got his truck, drove it back home, loaded up and and off to Ridgecrest we went. I spent a half day with him in a side by side and a day on my bike finishing up the trails for the ride. There are several changes since we are doing it the same weekend as the fire mountain ride, and there is a large motorcycle race on saturday that caused some major re-routing. All is good- we have the new routes set, and the changes on the 65-mile loop are VERY good for the horses. (I removed 4 miles of hard, rocky, downhill, boring roads)
Sorsha and I truck pooled to the ride with Gretchen Montgomery and her mare Coquette. It was another 7 hours from ridgecrest to Wickenburg. 15 hours of driving is a bit much for a 50, but there are just no rides yet where I am, and I wanted a 50 before the 100 at 20MT on April 10. I'm not sorry I went at all. I love doing rides in new areas I have not been in yet, and it did not disappoint. Ride camp is at a place called Boyd Ranch at the end of a good quality, eight-mile dirt road from the highway. We arrived on Thursday, giving the horses a full day to recover from the long drive. The ride camp is about perfect- it was deluxe and had everything you might want short of hot showers. We took the girls out for a ride Friday afternoon to get them loosened up, and to introduce Sorsha to the Saguaro cactus. These things are monsters! They grow from the size of a fire hydrant to bigger than a football stadium goal post. She did not seem to care about them, or the six foot high cholla cactus plants, or the massive prickly pear plants the size of cars, but for some reason she did not think much of the barrel cactus. I grew up in the desert, but let me tell you, there was a LOT of cactus in this place.
The weather was cold at night, but during the day it was really nice- cool but not cold, and not hot. My perfect weather is when it's too cool in the shade for short sleeves, but just right in the sun. The 50 would be run on three loops: 17, 12, and 20 miles, all of which returned to base camp. It seemed a little odd to only have one hold after the second loop, but its good to have the extra time at this ride. The 50 started at 6:30 in the almost light. The first loop started out really neat- single track across the open desert through the rolling hills. The trail was tight- it wound back and forth around bushes (AND CACTUS!) every few feet. It would open up a bit, then get really tight again. you needed a lot of trail marking on trails like this since you are riding from ribbon to ribbon, and they provided! The trail was marked superbly using a lot of ribbon, and the nice bio degradable spray paint arrows on the ground. I came to really appreciate those arrows! The area is pretty rocky everywhere, but was not an issue for us with Sneakers. The single track was really fun, but after a while I noticed that it was getting demanding. It wasn't like just trotting along at Point Reyes; it took your full attention and concentration on every turn (every 5 feet) to make sure you stayed on trail, and more importantly, steering your horse with your hands and legs to keep them out of the cactus that was everywhere. After a while it felt like a three-hour dressage test! it was fun, but the continued concentration made it relentless. We would get a break every once in a while, but unfortunately the relief was trudging through deep sand washes. I prefer the single track! The ride management said they did it their best to mitigate some of this sand by routing us out of the wash and into the desert next to the wash for relief. Well, it was relief of sorts; it was 18 inches deep in the wash and a foot deep out of the wash. This was the only really tough part of the trail for us, since I don't train in this stuff. Sorsha has never even been in sand that deep before. We just trudged through it at a walk. I tried to walk some on foot for a bit but it was too deep for me to even make any headway. I was always amazed when people would come trotting by us at speed through this stuff. It's fine if you are prepared for it, but we were not, so we just took it really easy. It was slow slogging for a couple hours of the ride.
Once out of the sand, we got back into the desert and more single track. Turn, Turn, Turn, concentrate, turn, repeat for an hour. Gayle Penya coined the perfect phrase that described this type of riding- it was hours straight of pole bending, but the poles had spines!
The first loop did end with our real first flat section, a nice hard wash that we trotted on for about a mile and a half. WoW! That felt good to actually move out a little. The loop ended on a weird series of roads and soft wash that ran through ranch property. The trail in went right through base camp to the vet area for a pulse, trot out, and go vet check. The second loop continued with the same type of trails. We found and saw Crockett's Saguaro, (In one of the pictures) the absolutely bizarre giant cactus that someone had to design. It could not have grown like that! It was pretty cool. We also got to see lots of a plant called an Ocotillo, a yucca I think, that looks like a cactus, and feels like a cactus, but is not. It's a big, spiny thing that looks like, well, an Ocotillo! (in the pictures) The flowers were just starting to come out. Back into the sand and more single-track pole bending through the cactus. It was about here, around 30 miles, that I found myself thinking something I don't think I have ever thought in 30 years of riding. "Boy, I'm ready to get off the single track and find a nice dirt road!" Usually it's quite the opposite!
The hour hold at 30 miles felt good, and the ride provided bag lunches for us. We set out on the last loop of 20 miles and it was actually better in terms of diversity of trail. Yes, there was still plenty of pole bending and deep sand trudging, but we were given a few miles of dirt roads that were quite welcome. We encountered a couple of gold miners on the trail, including one big, scary looking guy who had blocked the trail with his truck, making us ride into the rocks to get around. He had dug a huge hole that looked like a grave next to the trail. Yuck. He was not at all friendly, so we left him to do his thing, what ever it was. There was some nice trail that we could actually trot along at a good clip, and even a real honest-to-god downhill that we could lead down on foot! I realized I had not really been off the horse in about 45 miles. That felt good on the old creaky knees. Some more sand led us to the last road section in the wash and we popped out of the wash at camp and into the finish. Both horses looked great- the Big, Brown, Girly horse's CRI at the vet out was 40/40, about normal for her.
One thing I miss with the Covid stuff is the awards meeting. It is really nice to know how many horses there were, finishers, who placed where, etc. I have no clue how we finished, other that there were about 37 starters, and we finished with about 9 horses behind us. Pretty specific! I have no idea about pulls. I just heard today that a horse went missing from the ride and as of today (I think) is still missing. I sure hope they find it.
It was a long week with lots of driving, but it was worth it to sample the Arizona desert. It is spectacular country, that's for sure. My only gripe about the ride was the sand, but other than that it was a fun time. We got the final trail details worked out for the fire mtn / 20 mule team ride coming up in a month, and I got to spend a day on my dirt bike in the desert which is always a plus.
I hope to see everyone at the ride on the weekend of April 10th in Ridgecrest. It will be a great party, that's for sure! I'll be riding Sorsha on the 100 for the 4th time here- (she is 2 for 3) Funny- it's the only 100 she has done so far! We will have to do something about that this year. Championship, Big Horn, Tevis……..
Nick Warhol
Land of the Sun 50, Wickenburg AZ, West Region