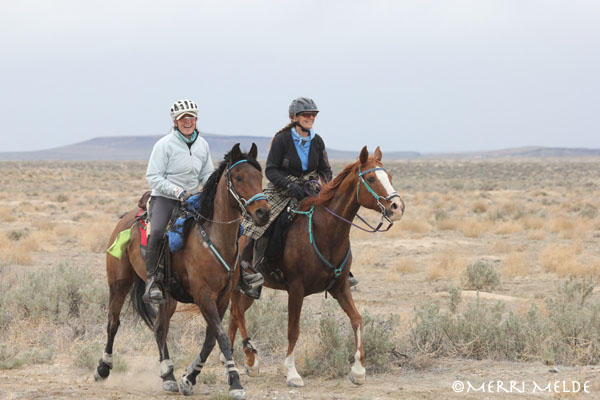 by Merri Melde-Endurance.net
April 27 2021
What do Idaho's Owyhee Tough Sucker endurance ride and the Mongol Derby have in common?
Riders!
Normally held the first weekend in April, Tough Sucker switched with Eagle Canyon - which is normally the last weekend in April - because numerous riders were seeking a 100-mile ride, either for 100-mile newbies, or as early prep for the AERC National Championships in June in Montana… or the Mongol Derby in Mongolia in August!
Go figure - it hasn't rained in months in the Owyhee desert, but Mother Nature saved it all up for the weekend: it's not called the Owyhee Tough Sucker ride for nothing! Just pack your trailer full of the full range of clothing, and expect it all, and you'll be set. throughout the day, depending on what part of the trail you were on, you might have had warm sunshine, cold showers, thunderstorms, or gulley-washing downpours.
Eight riders signed up to do the 100-miler, which became nine riders, when Jeff Stuart on a whim changed from his planned 50 on 18-year-old JV Remington (Gus) to the 100. In his 17 years of endurance, he had yet to finish a 100. "I like 50's," he said, but it didn't take long to convince himself to go for the 100. The 4 rides with Mongol Derby connections/aspirations came with Dylan and Stevie Delahunt brought 3 riders along.
Super-adventurer Stevie has competed in the Mongol Derby, Gaucho Derby (Argentina), and Race the wild Coast (South Africa); Dylan and friends crewed while Stevie led Alexandra Fetterman (endurance rider doing her first 100, riding the Mongol Derby in 2022), Heidi Falzon (venter doing her first endurance ride, riding the Mongol Derby in 2022), and Deirdre Griffith (horse packer doing her first endurance ride, riding the Mongol Derby this year) to a finish in the Tough Sucker 100.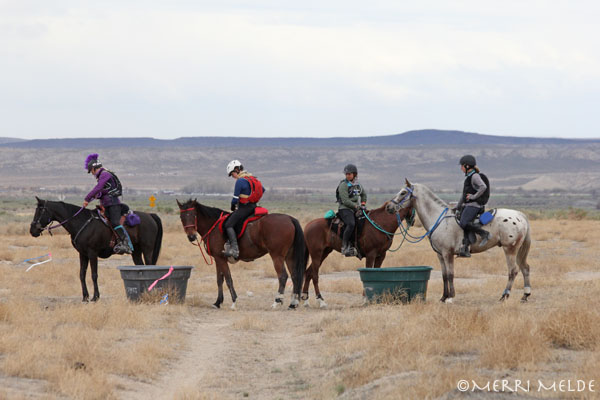 Jessica Cobbley and Brass, and Mike Cobbley and Khalid finished second and third, and Jeff Stuart and Gus won the 100 by 4 minutes in a ride time of 15:18. They also got Best Condition. Not bad for a couple of old guys (they just reached their Decade Team status in the Antelope Island 50 miler two weeks earlier). Jeff got that 100 monkey off his back!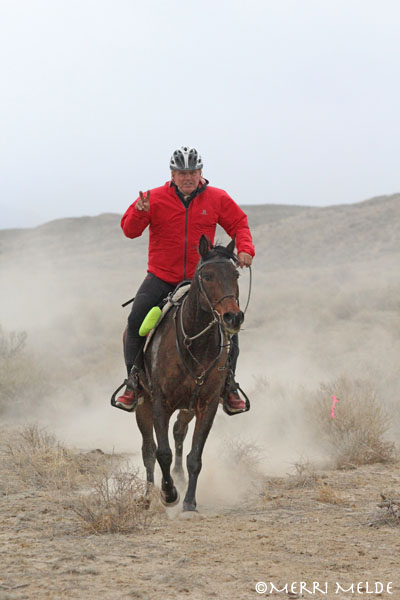 Seven out of nine finished the 100-miler.
Seven started the 75-miler, with 4 finishing. First place and Best Condition was Melissa Montgomery aboard West Wind Dragon in 10:26.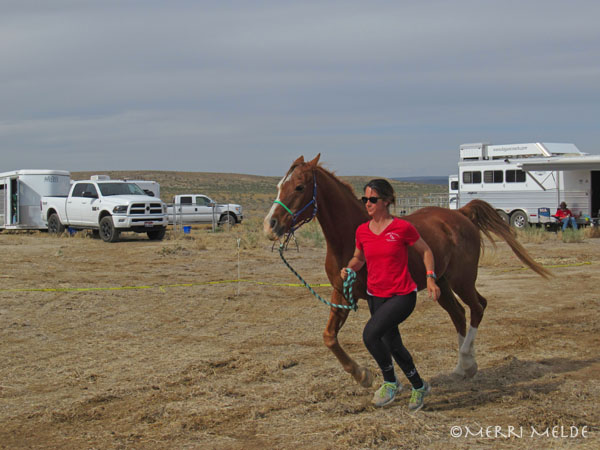 Finishing third aboard Bucephalos was Lindsay Fisher in 11:45. If you look closely at this 23-year-old gelding, especially when he pins his ears when she trots him out, he might remind you of a certain Monk, whom Lindsay rode for many years, finishing Tevis on him 5 times and winning the Haggin Cup in 2019. And that's because he's the sire of Monk. He started endurance at age 16 and has only done a handful of rides, but Lindsay's bringing him along with the goal of competing at Tevis. It's possible that Bucephalos and Monk could ride the trail together, and, as Lindsay pointed out, how many times have a parent/offspring ridden Tevis together?
18 started the 55, with 15 finishing. Trina Lenmark and Rushcreek Cricket won in 6:10 and got Best Condition. Suzanne Ford Huff and Beth Kauffmann hauled from the Gardnerville, Nevada area for the ride; in finishing in 6th and 7th places, Beth hit the 15,000 mile mark (she was sitting on 14,999 miles :) )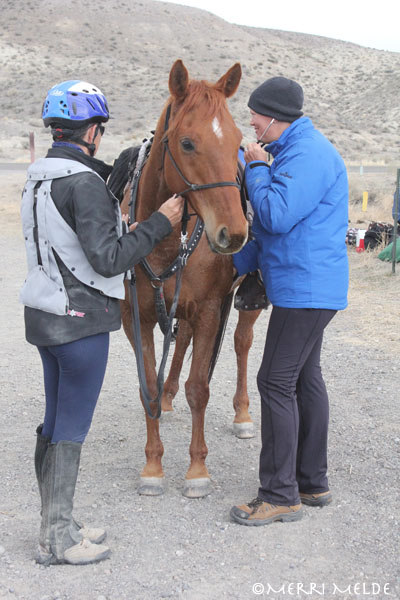 29 started the 30-miler, with 27 finishing. Zane and dad Matthew Geddes came in first, with third place Simone Mauhl and Dudley's friend Boogey getting Best Condition.
The Owyhee Tough Sucker will happily take credit for helping steer a couple of Mongol Derby competitors over the next 2 years in the right trail directions (Idaho's Bob Long won it in 2019, you all know). We'll be watching and rooting from the Owyhee desert!