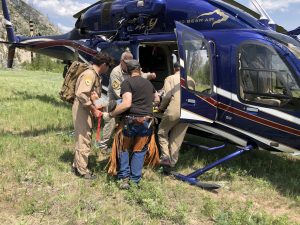 TrailMeister.com - Full Article
A pack trip cut short
July 19, 2021
by TrailMeister
Outside an emergency room entrance, a strange town stretching ahead. Wobbling: unsteady on new crutches, a hospital issue suit of sweatpants and t-shirt was completed with a single anti-slip sock. A flimsy plastic bag held all my belongings; a vial of narcotics and $150 in cash. No wallet, no ID, and no phone. It was not a good way to end a day.
The Setting
The Continental Divide Trail ranged ahead towards its terminus in Canada. Closer was the famed Chinese Wall in Montana's Bob Marshall Wilderness Complex. Closer yet was our lunch destination in the aptly named Pretty Prairie. In one of the nation's most scenic areas, I was annoyed. This was supposed to be day 2 of a 10-day pack trip through the Bob and we hadn't yet decamped from the trailhead. I had been planning this trip for months and wanted to get going, instead we were going on a day ride to a location I'd visited dozens of times before.
The South Fork of the Sun River sparkled in front of us as it raced to the Gulf of Mexico over 1,000 miles away via the Missouri and Mississippi Rivers. We would cross the Sun twice before we made it to our luncheon spot near the Pretty Prairie patrol cabin overlooking a glade in the forest...
Read more here:
https://www.trailmeister.com/a-memorable-ride-into-the-bob/?utm_source=MailingList&utm_medium=email&utm_campaign=October+2021+general