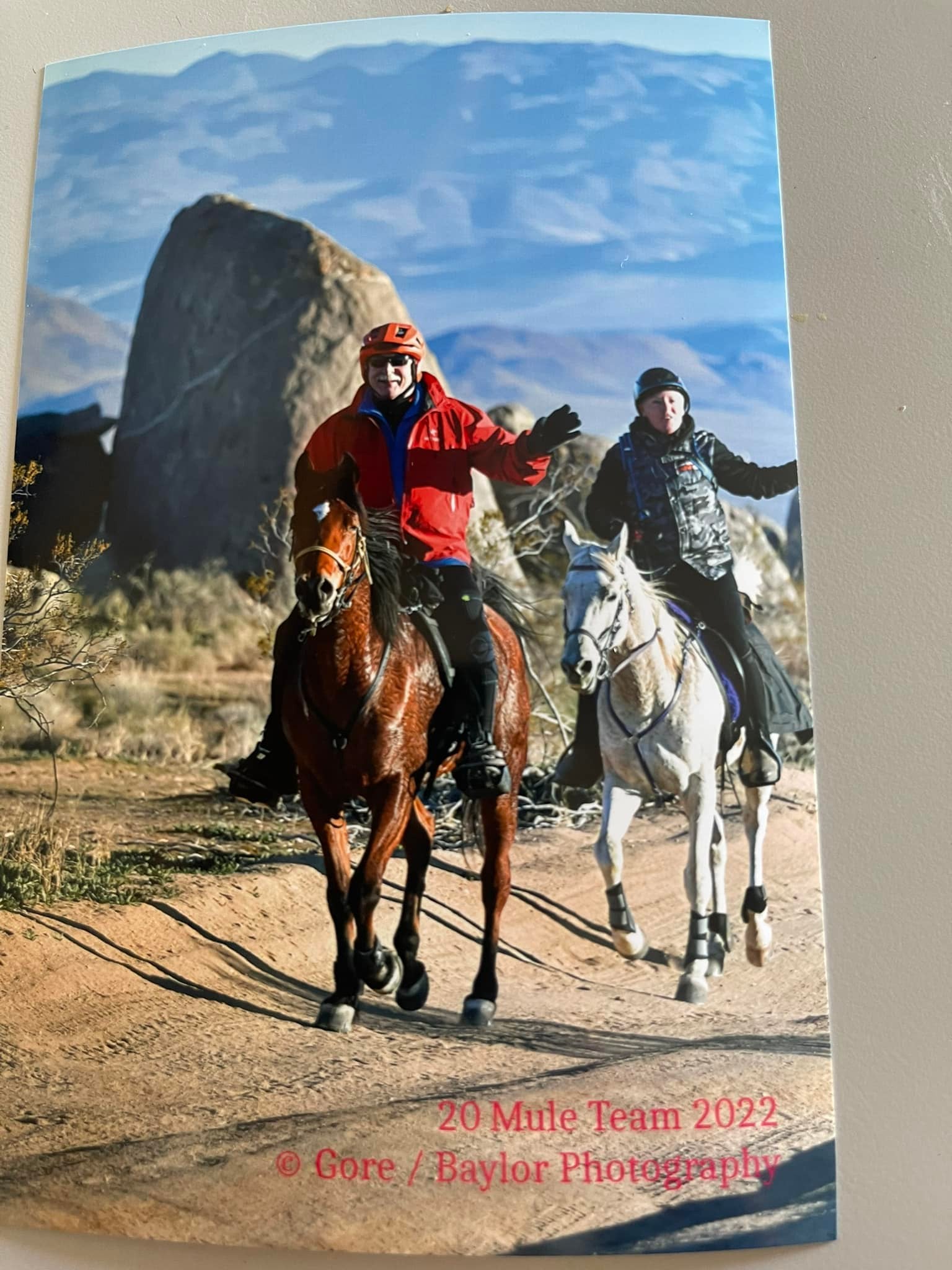 March 10 2022
This year's 20 mule team ride in Ridgecrest California did not disappoint. It is my favorite ride of the year, and the best week of the year for me since I bring both my horse and my dirt bike down for the week. I spend a few days working marking the trail on my dirt bike, then I ride the hundred on Saturday on my horse. It was a fantastic week all in all, but it certainly presented some difficulties. It was very windy on Monday when I drove down; I got really lucky that I made it to Ridgecrest before the big wind hit. These are the winds that blow semi-trucks over, close highways, and would've stopped me in my truck and camper on the way down. (The new truck is splendid by the way!) Monday afternoon was so windy it was impossible to even go outside. The wind was so strong that Brian and I literally could not open the rear door of my horse trailer to unload the motorcycle. It was that bad. You just had to stay inside or be in a vehicle. Tuesday morning arrived with just as much wind, and even worse! I was supposed to go out and work on the trail, which I did, but it was too difficult to really do anything. We ended up scouting the trail for a new potential ride we're looking at doing in October in the same area. As long as you have your goggles on, the dirt bike isn't so bad in the wind. Except for trying to ride 60 MPH against a 60 MPH wind! It was stupid.
Tuesday night we got the rotten news that we had lost yet another vet for the ride, which meant we couldn't use the long traditional 65-mile loop. We did some last-minute scrambling with our head vet Mike Perales, who was trying to find us a vet, to no avail. Brian and I basically changed the entire route of the ride on Tuesday night and started working on it Wednesday morning. We would have to do multiple loops out of camp which was OK, but not desirable. It's not possible to do the long 65-mile loop with only three vets. As a result, with three days to go we completely changed the ride. We created and marked new loops, made all new maps, found different hay and water stops, set new radio locations, scheduled less porta potties, the whole thing. It all worked out, since lucky for us the wind stopped. On Wednesday it was overcast and we actually had a few snow flurries in town. Oh great! At least there was no wind. On Thursday morning the weather became perfect! Clear, cold, calm, just right for riding in the winter in the desert. We got jamming on the trail marking and worked all day Thursday and most of Friday to get ready in time. It turns out we had a great turnout after all- over 100 riders across all the distances, with the 100 having the most with 38 starters! That's a very good sign!
Saturday morning came very cold at the start, but clear and totally calm- no wind. I saddled up Sorsha and started the ride with my new friend Mary Vrendenberg, who was attempting her and her horses very first ever 100 mile ride. We rode out at the back of the pack, but calmly and quietly passed several horses as we trotted up towards boundary Road.
There were a couple of horse accidents on the way up to the ridge in the first couple of miles, requiring some stitches and a hospital visit for falling down horses that really injured their knees. At about 10 miles or so One rider in particular had dismounted for a rest room stop, and was re-mounting her horse. The horse took off and she fell off backwards hitting her head on the ground hard. It cracked her helmet, and gave her a pretty serious concussion. Several riders stopped, including Lori Oleson, who walked her to the highway crossing before continuing the ride on her big gelding Fargo. J Mero and her daughter Reyna ponied the horse to the highway, fast! They blew by us with the horse in tow at a canter. That was pretty cool! I heard Reyna say "the horse does not know how to pony, so we are just going fast!" It turns out the rider was OK, just had a serious concussion. We rode the rest of the first 35-mile loop with no issues, vetted through at 25 miles fine, and made it to camp at 35 miles. There was one problem in camp- long vet lines. But what does a good ride manager do? Brian hired J Mero, who had been pulled, to be another vet. That's quick thinking, and thanks to Dr. J for stepping in to help. After an hour hold we headed back out and had to ride the two new loops that Brian and I created the day before, the pink loop, and the blue loop, 15 miles each, out and again back into camp. Both loops went fine, no issues, just lovely trotting in perfect weather. Sorsha told me every time we were passing home, since we had to pass Gretchen's place at the corner, every time we headed out and came back in. She would pause, I'd say, no, lets go on, and she would. Good girl!
After the blue loop, we returned to camp after 65 miles at about 4:00 PM, which was earlier than normal. This new format ride was clearly easier than the traditional ride. Now all we had to do was the last 35 miles, the traditional 35-mile orange loop, the night loop for the traditional ride, that we had done earlier in the day. We headed out in the daylight, and trotted up the same way we gone this morning up to boundary Road. The sun was just setting and getting dark as we turned right on boundary for the 10-mile trot to the highway. Just after dark, Chelsea and Buzz Arnold caught us and decided they liked me once again for my lights! I have these homemade LED blue lights on my breast collar that cast a nice, soft light in the pitch-black desert. The four of us rode the entire last 30 miles or so together, having just a splendid ride at night. Sorsha and I were next to buzz and Gus in front, with Mary and Chelsea following behind us. Mary was hanging in there, riding along with no issues or complaints. I love it! We rode like that for several hours, and arrived at the last check at mile 90, which was really cold. Dennis Sousa reported it was about 19 to 20°. Burr! As long as you were riding it was fine, with the right clothing, but standing around fingers and toes got cold. It was funny- Buzz and I kept zipping and unzipping the jackets, removing them and putting back on, gloves on and off- it just depended where you were at the moment and if you were trotting or not. But once past the check it stayed very cold. I pulled a bozo in the vet check, fully embarrassing myself by stepping on a hunk of hay and crashing to the ground. My land legs were acting up a bit, I guess. Nice! I looked like the fourth Stooge! It was okay- only a few people laughed!
It was only 10 miles to go to the finish, and right before the highway crossing Mary's horse took a trip and kaboom, down went Mary on the ground. Oh no, not now! She hopped back up, remounted, and we continued on no problem. We rode the last 8 miles into town down past the college (on my new route that I like a lot better), through the city and to the finish, finishing at about 11:20 PM in ninth and 10th place. Chelsea and Buzz held back a little bit to allow Mary her first top 10 in her first ever attempted a 100. Thanks again Chelsea and Buzz; you guys are a class act, and I really appreciate that gesture. It was only 11:45 when I walked Sorsha the quarter mile back home to Gretchen's to put her up in her pen. I've never finished the ride that early before. I walked back to my WONDERFUL camper where I turned on the heater, had a cold IPA from the fridge, took a hot shower, in 20 degree weather outside, and curled up under my two down filled comforters with 800 thread count Egyptian cotton sheets. Yes, this is the life! Much better than the tent I spent last year in.
The next morning was clear and cold again, and I declined to show Sorsha for best condition since Christoph Shork beat us by over three hours! And his horse looked fabulous! Wow. He ended up with Best Condition, which he deserved. Special congratulations to Mary for doing a perfect ride on her and her horse's first 100. They were smiling all day and looked great. The 20 Mule Team is one of the best first 100-mile rides anywhere, and this is exactly how you do it! Special mention goes to the Quicksilver club- we started 12 horses across all distances, and finished 11! That's a 91 % completion rate for the club. And get this- in the 100, we started 6 and finished 6, including 4 in the top 10! Nice! I'm also thrilled to report a 72% completion rate for the 100. That's the best in a long time! I went back out on Sunday morning and spent the day cleaning up the ribbons and arrows off the course while people packed up and went home. On Sunday night Brian took us all out for dinner and we had a nice meal.
On Monday morning I packed up the bike, Sorsha, and headed home. It was yet another great day at my favorite ride in the desert! Sorsha is now four for five at 100-mile rides, every one of them here. We are looking forward to getting to the Big Horn this year in July, with a few other California riders. I'm really looking forward to that adventure. I think Lori and Tracy are in, any other takers? Next ride, Whiskeytown in the middle of April. It is another one of my favorites, since it's almost all single track. Then maybe Cache Creek, then by al means the new ride in Point Reyes in June. Point Reyes is my favorite place to ride a horse in the state, and there has not been a ride there in over 30 years. I'm REALLY looking forward to that one!
Nick Warhol
Hayward, Ca.