by Merri Melde-Endurance.net
September 7 2022
You're seriously missing out on one of the best rides in the Northwest region if you haven't been to Old Selam Pioneer in southern Idaho.
But don't just take my word for it.
Here's what Haggin Cup winner Lindsay Fisher, aboard Haggin Cup winner Monk said:
"Old Selam Endurance Ride in Idaho City is a must!!! It is rare to find a mountain ride with incredible views and a light sandy footing!!!"
Lindsay rode with her daughter Hailey (Lindsay rode Monk on day 2), for Hailey's first multi-day ride aboard Starlight, and she got Best Condition Junior both days!
Marlene Moss said, "The footing is generally awesome and there probably isn't a better marked trail in the country."
Darlene Anderson said, "The trails are beyond incredible. The views are to die for, the trail markings this year were A-mazing!"
Alex Lewis said, "David and I had a blast on the beautiful trails, that were perfectly marked, and the views were outstanding!! Idaho City has GORGEOUS countryside to ride through!! If you haven't been to this ride, you MUST go next year! The folks that put on the ride are generous and kind, the camp is fantastic, and the ride itself has great footing and is beautiful!"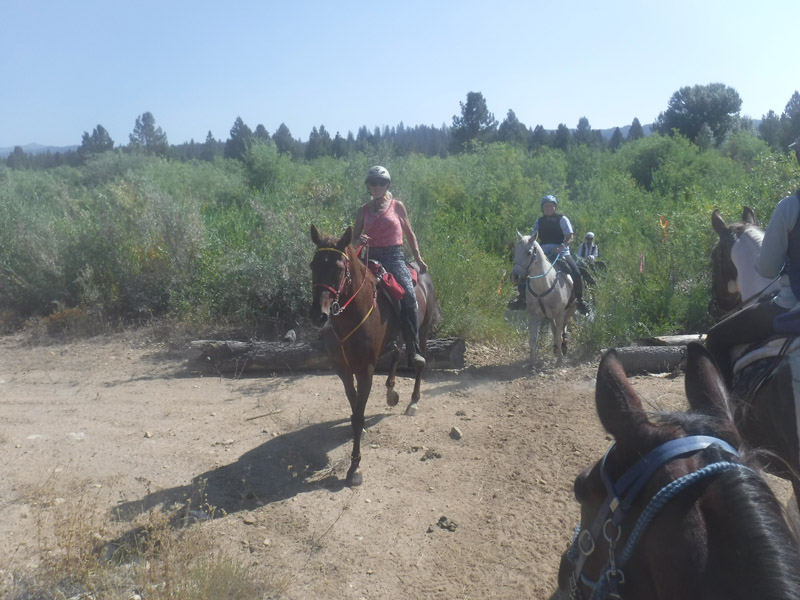 The old logging roads and cross-country trails wind through 1860's gold mining country in the Boise Forest between the old mining towns of Idaho City and Centerville. The name Old Selam comes from a workhorse from the Old Idaho State Penitentiary in 1901 that 2 different prisoners used to escape on. The first prisoner was caught and Old Selam went back to work in the prison. The second prisoner took off on Old Selam 6 days later. The prisoner was never found, but according to some reports, Old Selam was found 6 months later near Swan Falls. He probably didn't have to go back to work in the prison!
Since 1979, the Southwest Idaho Trail and Distance Riders have attempted to re-trace the trails used by Old Selam in his two escape attempts. Ridecamp and the trails have shifted over the years around the area, but since 2017 have been along the old dredged Henry Creek. Maybe Old Selam galloped past our campsite 116 years ago!
The 3-day ride is a club ride for our local SWITnDR (Southwest Idaho Trail and Distance Riders) group, and so many members (and some non-members) donate so much of their time to put this ride together, donating the Ridecamp site, clearing trails, marking then unmarking trails, putting out water, checking and double checking things. Matt and Veronica Stanley took over as ride managers this year for the first time and did a super job.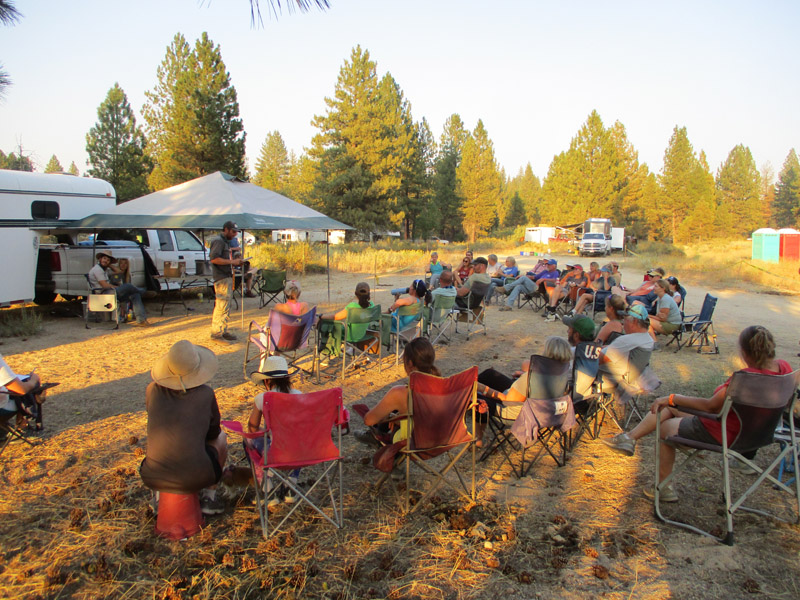 It can be hot this time of year, and while the afternoons baked this year, the mornings were cool and invigorating. There's nothing better than trotting along a gently-sloping, winding sandy logging road on a quiet green forest ridge trail.
You won't find a better organized or a better marked Endurance trail, and you won't find better footing than Old Selam.
There were 43 starters on Day 1 (both distances), 29 on Day 2, and 32 on Day 3, with only 11 pulls all weekend, most of them Rider Options.
Three horse and rider teams finished all 3 day of the Limited Distance 25s, and 3 horse and rider teams finished all 155 miles of the Endurance distance.
A few lucky Endurance riders got to see a few moose on trails, and maybe the ghost of Old Selam watched through the trees as riders passed over the trails, and dreamed of the escapes he made so long ago.