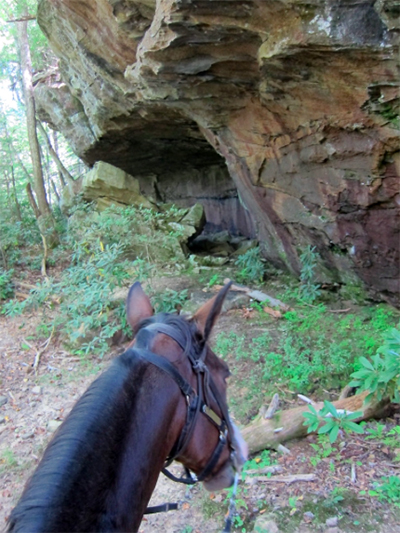 Equitrekking.com - Full Story
October 29 2018
Frequent Equitrekking contributor Susan St. Amand rides again amid sandstone formations and historic sites at Big South Fork Recreation Area in Tennessee.
Recently, I had the pleasure of trail riding at Big South Fork Recreation Area in Tennessee again. No matter how many times I ride here, it is a beautiful and interesting area to ride.
A national park, the Big South Fork area has many scenic gorges and sandstone bluffs that are impressive. Whether due to the 100th anniversary of the National Parks, economy, or increased interest in trail riding this year, we encountered an increase in the number of trail riders and horse camping in the area which everyone was pleased to witness. In addition, the fall weather and foliage were beautiful during the week we rode.
During one of our usual stops to True West Campground, they were experiencing an exceptionally busy season. Muddy Pond area Mennonite stores also proved to be very busy with shoppers. It seems there is a resurgence of interest in the Big South Fork Recreation area, which is beneficial for all. A recent horse breed organization report indicated a decrease in horse show attendance, and an increased shift in equestrians pursuing trail riding...
Read more at:
https://equitrekking.com/articles/entry/horseback-riding-at-big-south-fork-recreation-area-in-tennessee/?mc_cid=3bec7ab4df&mc_eid=290b655fe3