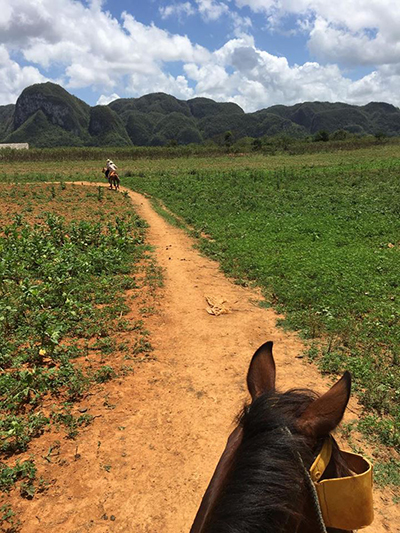 Equitrekking.com - Full Article
May 7 2017
Travel expert Jeannette Ceja rides horses in Viñales, Cuba, just two hours from Havana through tobacco fields and lush forests.
Cubans frequently told me that I had to make time to visit one town during my stay in Cuba. To really know Cuba, I have learned to always listen to what the locals recommend. And the experience exceeded every expectation I had.
One must pay a visit to a breathtaking town called Viñales located a little over two hours away by car from Havana. If you love horseback riding, Viñales offers the perfect backdrop of mountain forests, caves and endless tobacco fields. You will literally feel as if you are in a movie. Visitors can go on many trails led by local trail ride guides that will lead you anywhere you like. Make sure to request a visit to a local tobacco farm during your ride...
Read more here:
https://equitrekking.com/articles/entry/why-vinales-cuba-is-the-perfect-backdrop-for-horseback-riders/?mc_cid=d77a56ec5a&mc_eid=290b655fe3