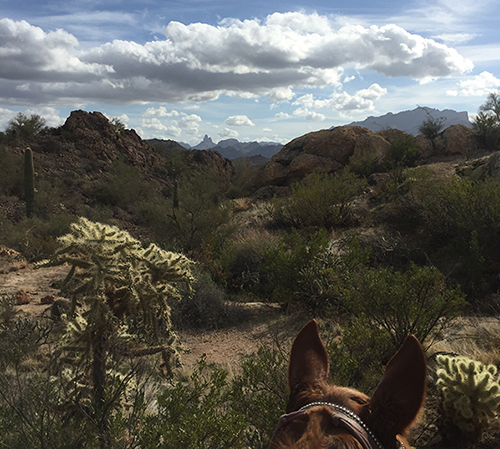 Equitrekking.com - Full Story
June 23 2017
by Lisa Florey
Trading in Chicago winters for Arizona sunshine was a no-brainer. Instead of slogging through slush in downtown Chicago, I explored the canyons, washes and rugged trails of the Tonto National Forest on horseback. The fifth-largest national forest in the United States, Tonto boasts nearly 900 miles of trails.
For several months, I had the Superstition Wilderness — one of eight wilderness areas within the Tonto National Forest — as my back yard. Located east of Phoenix, the Superstition Wilderness has 180 miles of trails spread out over 160,000-plus acres. This "forest" is populated with saguaro, cholla, prickly pear, mesquite, palo verde, ocotillo and many other cactus, trees and shrubs I still need to learn to identify.
Exploring by horseback is the best way to access this sprawling national forest. From the steep, primitive trails around the Superstitions to the colorful Old West canyons of the Goldfield Mountains and the winding trails around Saguaro Lake and the Salt River, there are no bad rides, only scenic (and sometimes challenging) ones...
Read more here:
https://equitrekking.com/articles/entry/horseback-riding-arizonas-tonto-national-forest/?mc_cid=a18aa07f36&mc_eid=290b655fe3