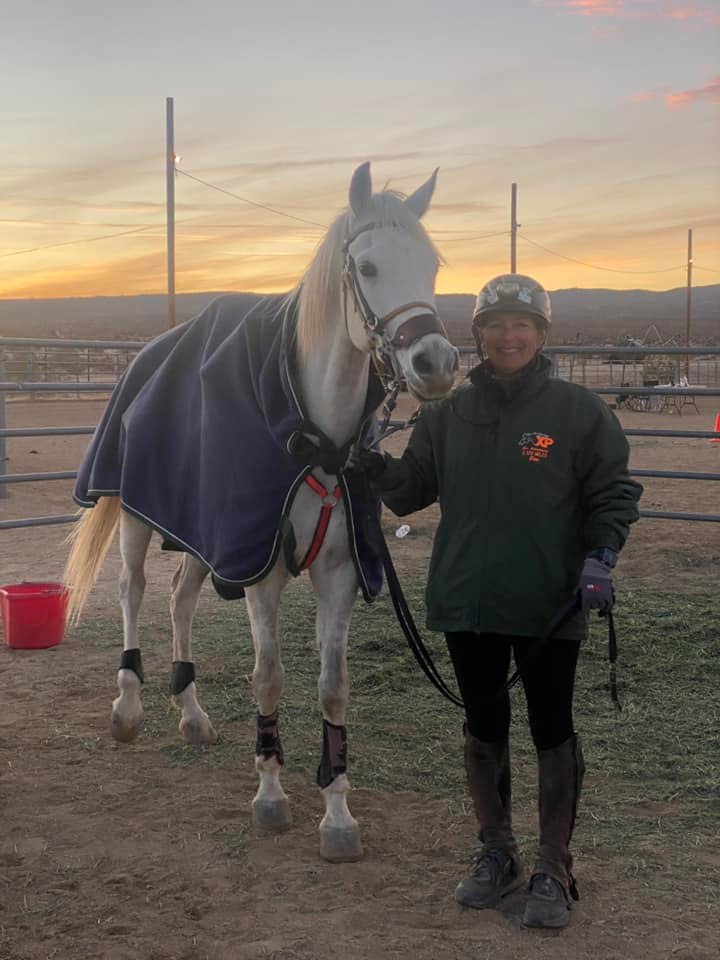 January 17 2022
by Nina Bomar
It was my third day and Niño's second at the Fire Mountain Ride. It was a bitterly cold morning by my standards, but Dave Rabe showed up in his usual attire, shorts and a lightweight jacket. I was bundled up like we were headed for the snow. My fingers felt like frozen icicles and I blew on them with hopes that my warm breath would help them to thaw. I'm sure I was making my discomforts known out loud, when Dave blurted out to me an early morning story that suddenly occurred to him.
We were less than a mile down the trail and we had let most everyone pass us. Dave reminisced about way back when and Calina, the Ducks daughter was a very young girl and probably much less than 10 years old. He said that he and Connie Creech sponsored her on the Grand Canyon ride and it was about 5° out there first thing in the morning and brutally cold. Little Calina began to cry because she said her hands were cold. They told her to hush up and ride and that she did. They all finished the 50 miler that day and walked the last loop in because Calina's horse was a little off but they made it.
Oh I got the message and quit whining It was a beautiful and sunny morning out here in the desert and it wasn't before long, when I began to shed my own layers. Dave and I had initially planned to only ride one day together and that was supposed to be on the second day, when he would ride White Cloud.
He surprised me on Day 1 when he said that we should give it a try, while mingling at the start and with him riding his sometimes crazy boy Cocamoe Joe. He and Niño know each other well and have ridden miles together. Luckily for us, on this first day it was an uneventful ride and a beautiful success.
On day 2, I rode Saudii with Dave who was riding White Cloud and again we paced well and had a fun ride. We were both thrilled and spent the day chatting, telling stories and griping about all the things that bother us and then laughing it all off.
On day 3 Cocamoe was up again and paired with Niño but within the first 10 miles, he suddenly turned into what I call a crack headed horse. He just decides that he's gonna win the race and there's no turning back. Sadly Dave had his hands full and I offered to do whatever was necessary to let them find their way.
By the first vet check, which was at 20 miles, Cocamoe had surely pissed Dave off, but after the 1/2 hour hold, he figured that his boy would return to his senses. We went out together and moseyed along at a nice pace that wasn't too slow, but we also weren't screaming maniacs flying down the trail.
It was then that Dave told me about how he'd gotten Cocamoe in 2011 from Charlie who lives in Australia. He'd come to the USA to ride the big XP Ride and he'd bought a few horses mostly in Missouri to use for the ride. In the end, the plan was to sell them before returning to Australia but no one wanted to buy Cocamoe. He had a terrible reputation after within his first few rides, when he stepped on a plastic water bottle and the crunching noise spooked him. He dumped Charlie, breaking his ribs and took off running for several hours before they could locate and capture him. Needless to say, Charlie was pretty broken up in more ways than one and he wasn't able to ride him anymore. They stopped at the Rushcreek Ranch and Dave picked out two new horses and then unknowingly, Charlie picked out two and they were the same horses!
After the XP Ride, Dave brought Cocamoe home and put him out to pasture for at least a good six months, but then started riding him. He never has bucked him off and they recently earned their decade team award after riding for 10 years together at distances of 50 miles or more. With 8,500+ AERC miles, he's been a phenomenal horse.
Congratulations to Dave and to Cocamoe who together are a force and full of great successes and accomplishments. They could take home 1st place finishes on any course, but Dave's goal is to manage him carefully and reach 10,000 miles with him, by keeping him strong and healthy…
Thanks Dave for accompanying us this weekend on the trail. We always enjoy your camaraderie and all the wisdom that you share. Both me and my boys Niño and Saudii feel honored, brimming delightfully with joy … and so much more.
Until the next ride, thank you all for coming along and for your support. Thanks to Epona for the best horse shoes ever and for their awesome hoof products and education that helps keep my horses sound and moving down the trail. It's been great fun sharing with y'all… now to go home and hug my herd!