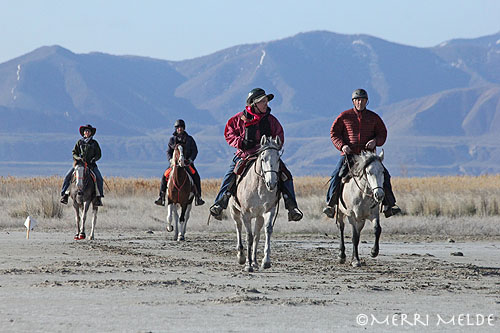 by Merri Melde-Endurance.net
April 12 2022
This was Jeff Stuart's 7th year to put on the Antelope Island Endurance ride on Antelope Island State Park in Utah, carrying on a decades-long tradition. He always tries to come up with new combinations of trails, and with Ridecamp in a fenced field by the historic Garr Ranch on the south end of the island this year, Jeff got permission for the first time for riders on Day 2 to have their Hidalgo moments and gallop on the dry lake bed. Some horses have apparently seen that movie as they did indeed make off like Hidalgo did when he was chased by a haboob.
(Riding on the lake bed was also made possible by this being the LOWEST level of water the lake has ever had - more and more people moving in suck up the water from creeks and rivers before it ever gets to the lake. One day the island buffalo will be strolling into downtown Salt Lake City for day trips when they can just walk across an entire dry lake bed, at which time The Great Salt Lake will be renamed The Great Salt Basin.)
Because of crazy record number of visitors to this Island State Park since COVID sparked the outdoor craze, this year entries were limited to 50 riders a day. It's a nice state park, and a great example of multi-use management, with hiking, biking, bike races, horse riding, horse races, camping, and raising buffalo. There used to be boating, but the docks are all on dry ground now.
I'm always amazed at how good and fit and healthy most American Endurance horses look, and with this year's entries, there was so much equine eye candy to behold.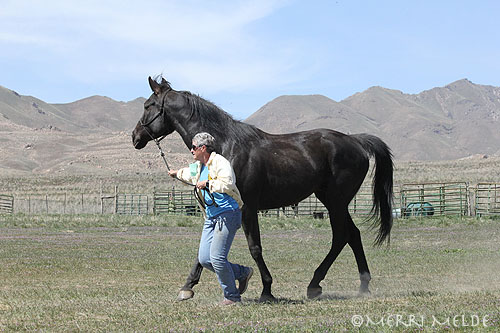 Numero uno was unloaded from Suzie Hayes' Montana trailer. Several of us literally gasped at her 6-year-old 17-hand Anglo-Arab, Darc Legacy, aka "Pitch," (we immediately nicknamed him "Tiny"), arrived for his first Ridecamp experience and first 50-mile ride ever. (They finished, a successful day, no forced dismounts from 17 hands in the sky!)
And always my favorite, Kvistur fra Hvammi, aka "Kris" the Icelandic horse ridden by Bill Marshall on Day 2's 25. I LOVE HIM! (The horse, not Bill. Although Bill is a very nice and pleasant man.) They finished!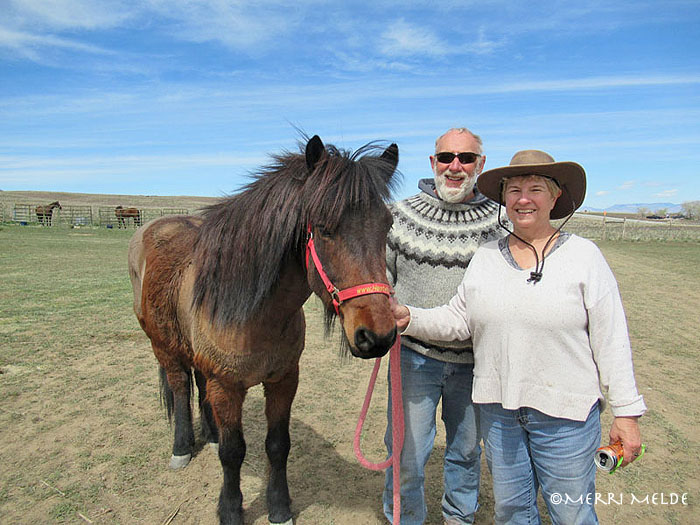 And if you've ever been looking for Mangalarga Marchador horses (a gaited Brazilian breed), of course the Antelope Island Endurance ride is the first place you'd think of finding them. The Nelsons from Montana showed up with 4 of their Marchadors for all of their first Endurance rides, and very coincidentally, Nick Button showed up with *his* Marchador from Oregon for his first Endurance ride (they did not know each other). They all finished! (The 2 grays in the top photo are Marchadors.)
At least a dozen first time Endurance riders attended this year and were started down the path of Endurance addiction.
As they have every year of late, vet students from the Utah State University School of Veterinary Medicine came to help learn and vet the horses with head vet Mel Schwartz - future Endurance vets (and maybe riders) in the making. As usual a great group of volunteers helped to put on the ride - the unsung heroes of all Endurance rides everywhere.
It was fun seeing a familiar face from (my) days past riding in the West and Pacific South region. DVM Susan McCartney, who vets rides in those regions took a turn in the saddle for the first time in 5 years and for the first time at Antelope Island, riding Christoph Schork's GE Pistol Annie to finish Day 1's 50, and Day 2's 25.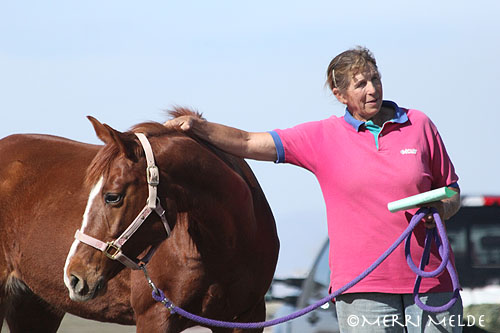 Gwen Hall and Sizedoesntmatter (Dakar) came to Antelope Island for the first time loaded for bear. Among others, Gwen and Dakar have won the 2021 AERC National Championship 100 at Fort Howes, Montana; the 2017 AERC National Championship 100 in La Veta, Colorado; a first place in the  USA team starters for the 2018 World Equestrian Games Endurance Championship in Tryon North Carolina; AERC Decade Team; and three Top Ten finishes in the Tevis Cup (4th in 2014, 2nd in 2015, and 8th in 2019). 
They tied Christoph Schork and GE Atticus Golden Sun for the win on Day 1, with Atticus getting Best Condition. Christoph and GE VA Blizzard of Oz won Day 2's 50 and got Best Condition, and Christoph received his umpteenth Antelope Island ride award jackets.
Weather was chilly and windy, which was perfect for riding, and the ride itself was perfect timing for most everybody to get home before the snowstorm (in mid-April!!!) hit over much of the Northwest. 
See you here next year at one of the best rides in the Mountain region!
More fun photos and such at:
http://www.endurance.net/international/USA/2022AntelopeIsland/