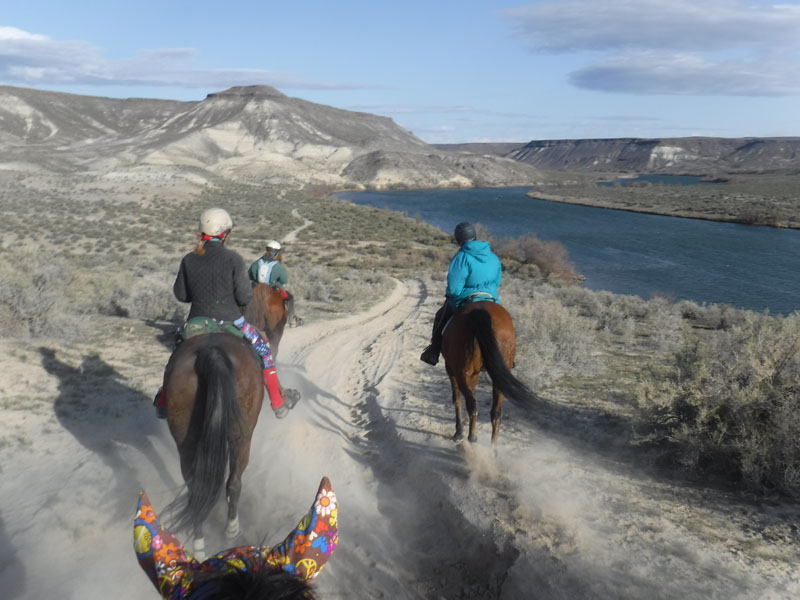 by Merri Melde-Endurance.net
April 4 2022
My goodness. We expected the wind to blow in the afternoon, but nobody predicted the Dust Bowl that the trails became, or that Ridecamp morphed into throughout ride day. But, as Mike Cobbley said, "Hey, I'm looking on the bright side. No gnats!" That's because all the gnats were hurled into the next state by the wind and dust. (You are welcome, Nevada!)
Once you were already out riding in the wind you just took it. Even when it was blowing so hard, if it was coming from behind you, dust clouds blew forward onto and enveloped the leading horse, and it buffeted you around in the saddle up on the Hallelujah Rim and some of the wind-funnel valleys.
But oooooh the poor, wonderful volunteers and crews and vets in camp had it the worst. All of us, riders, horses, in-campers had dust in every pore and crevice, and oooooh the poor eyeballs. Brings up the question, what did/do the Bedouins in the Arabian deserts do? They are covered from head to toe except for their eyeballs, day after month after year after decade. How do they not go blind from the dust storms?
It was so dusty in camp that Regina forgot and left one of her truck windows open during the day and consequently captured about 60 pounds of dust inside. It was so dusty Regina bagged baking lasagna for dinner on her outside grill as it would have been Dust Lasagna. It was so dusty that the next day when I washed clothes, washing only polished the dirt but didn't remove it.
And one reason that it was so dusty was because we had to shift Ridecamp pastures at the last minute; two days before our ride, a rancher's bulls were in our pasture ("they are NOT nice bulls," said ride manager Regina), then they were gone for a day, but then they were herded back into the pasture Friday evening (which was quite entertaining for some of the horses in camp.) Our new camping 'pasture', sparsely covered with dead tumbleweeds, quickly turned to dust with horse hooves and truck tires.
But (despite the wind) the weather was perfect for riding, trails around the Snake River and along the Oregon Trail were pretty and the footing fabulous.
It wasn't a big crowd, but 27 hit the trails on Saturday morning, with, at the finishes, only one lameness and one rider option. Highlights were Cat Cook finishing her first 50, after umpteen years of riding LDs, and on the famous-and-sometimes-wild-man Talladega, owned by Mike Cobbley. Cassee Terry, who's been vetting northwest rides since 2006, finished her first 50 on Kristen Grace's JoJo. She rode with Kristen and her daughter Joslynn. She *says* she was only a little stiff the next day. Brad Drake and Mi Coy Raven rode their first Idaho ride and tied for the win in the 50 with David Laws and Che Ole, and Dick Root and OFW Alivia (Best Condition). Karen Steenhof and WMA Proclaim (Riley) were familiar faces getting the LD Best Condition award.
Photos and more from the ride at:
http://www.endurance.net/international/USA/2022OwyheeToughSucker/