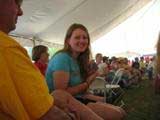 Ashley Kemerer
Well I am proud to say that both my horse and I completed our first 100 mile ride at the Old Dominion this past weekend. I know there are oodles of emails from other ridecampers that have completed their first 100's etc, but I figured one more couldn't hurt.
Let me just say that I had a blast! The ride was awesome, the trail was challenging but doable and best of all we completed. Coming into this ride I was not sure that we would complete, like everyone we had various issues arise just a few weeks prior to the ride, so I entered the ride with the attitude of "We're going to give it a shot" I had no expectations and if it was necessary at anytime I was ready to pull my horse if he wasn't up to the challenge or for any other reason. I rode with my father, for those of you who know Skip, and a good friend Lisa Delp. So to the ride, we were off at a 5:30 am start with just a small patch of dirt road going into the first three miles which were to be basically all uphill and very rocky, we had already decided that we were going to walk this part of the trail. We made it through and started to pick up speed into the trot by at Edinburg, then continued on to the first vet check at Curtis Field, 23 or so miles in. Horses pulsed down well, luckily our crew, my mom, had found us a great spot in the shade. The horses had the opportunity to rest up and relax and of course eat.
Off to the Gate and Go we went, the trail was beautiful we went up what I think was Little Crease, whooey was that one rocky section. Then onto Veaches Gap another serious climb with rocks. The Gate and Go was across the river, which we all cooled off in, but alas we had to pass the gate and go and do another 4 or so mile loop and back to the gate and go, but that gave us a chance to see the front runners, all of the horses we saw were in great shape. After completing the loop it was back to the Gate and Go, it was hot and there was no shade and water was at a premium but we managed to pulse down and continue on.
Ill continue on in less detail but I will add that we also did Sherman's Gap, that was a climb and a half, we all walked down the climb to give the horses a bit of a break. I was feeling great and my horse looked great and I was utterly impressed with how well he was doing. Some more climbs and beautiful trail. Unfortunately my dad rider optioned at 90 miles. So it was just Lisa and I to finish the last ten miles in the dark dark night. We made it through and finished at around 4:30, we both vetted through well and headed back to camp to take care of our horses and try to get some rest.
This was definetly one of the greatest experiences of my endurance career and something I will cherish and remember for the rest of my life, along with my hard earned OD buckle! To anyone contemplating doing their first 100 (not necessarily at OD) I highly recommend it, go in with the right attitude and keep your horses best interest forefront and go for it. It is something you will never forget.
Thanks to everyone at the OD for making this possible, the crews and volunteers and staff were all awesome, what a great ride this was! Also thanks to my Dad, Mom, and Lisa for riding with me, as well as Lisa's crew too!
Ashley and Tarsu (who I'm sure is catching some Zzz's)