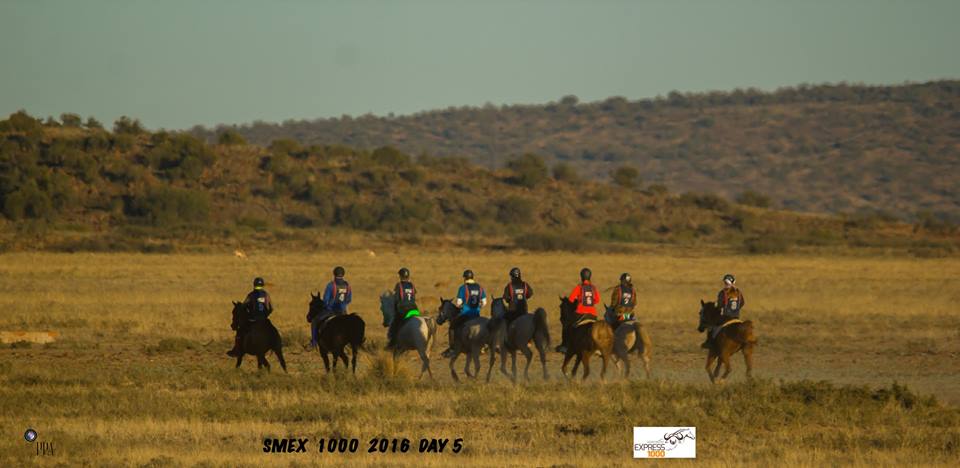 http://www.endurance.net/international/SouthAfrica/2016SandymountExpress1000/
october 4
South Africa Sandymont 1000 Day 4!!!
I am thrilled to report we are halfway there!!! Coco Channel was stronger today during her loop than yesterday, Hidalgo beasted up to 160 kilometres sound and happy, and Avatrix came through for our 45 kilometre loop like a dream. We have wrapped up day 4, and I'm beginning to get my schedule down:
4:00AM – Wake up

4:05AM- Breakfast (1 banana, a piece of toast with peanut butter, and a double espresso)

4:50AM- Rykie drives me to race site. She also picks what music I will have stuck in my head all day. Popular choices include Avicii and OneRepublic, at top volume.

5:00AM- Get to the race site. Go through list of stuff I have to do. Find out Jaco and Elias have already done the stuff I thought of and everything I've forgotten as well.

5:30AM- Ride an awesome horse

8:30AM- Ride another awesome horse

11:30AM- Ride a fantastic horse

4:00PM- Dinner 1 (cheese and either antelope or springbok, preferably both)

5:00PM- Dinner 2 (Brai…I look around in expectation when anyone says this word. It involves throwing some sort of animal over and open flame and cooking it with delicious spices. It's like a dry rub barbeque) and a potato if there's room.

9:00PM- Dinner 3 (Biltong in bed)

9:30PM – Sleep
I'm chronicling what I eat because as every endurance athlete knows, at some point during the race you usually hit a wall, slump, mental droop, or low point. For me, it has historically been day 3 of the race. This time, I have had ZERO slump or fatigue, and my body feels like it hasn't started working yet at all. It's probably because I'm in fair shape right now, feeding it correctly, and have the best possible fuel. Every Hammer Electrolyte product I packed for this trip is worth its weight in gold. During the ride I'm fuelling with HEED, E-lyte electrolyte pills, and 1-2 Hammer Gels.
We're going into the back stretch, and not only am I 100% fresh, I have two horses that haven't even done any miles yet on my string. The horse that I have ridden so far are happy and sound. I got a really nice complement from the vet today on how my horses' backs are looking extremely good, which makes me feel great!
On to day 5!!!
"He said, "One day you'll leave this world behind
So live a life you will remember."
My father told me when I was just a child
These are the nights that never die
My father told me
When thunder clouds start pouring down
Light a fire they can't put out
Carve your name into those shining stars
He said, "Go venture far beyond these shores."" -Avicci