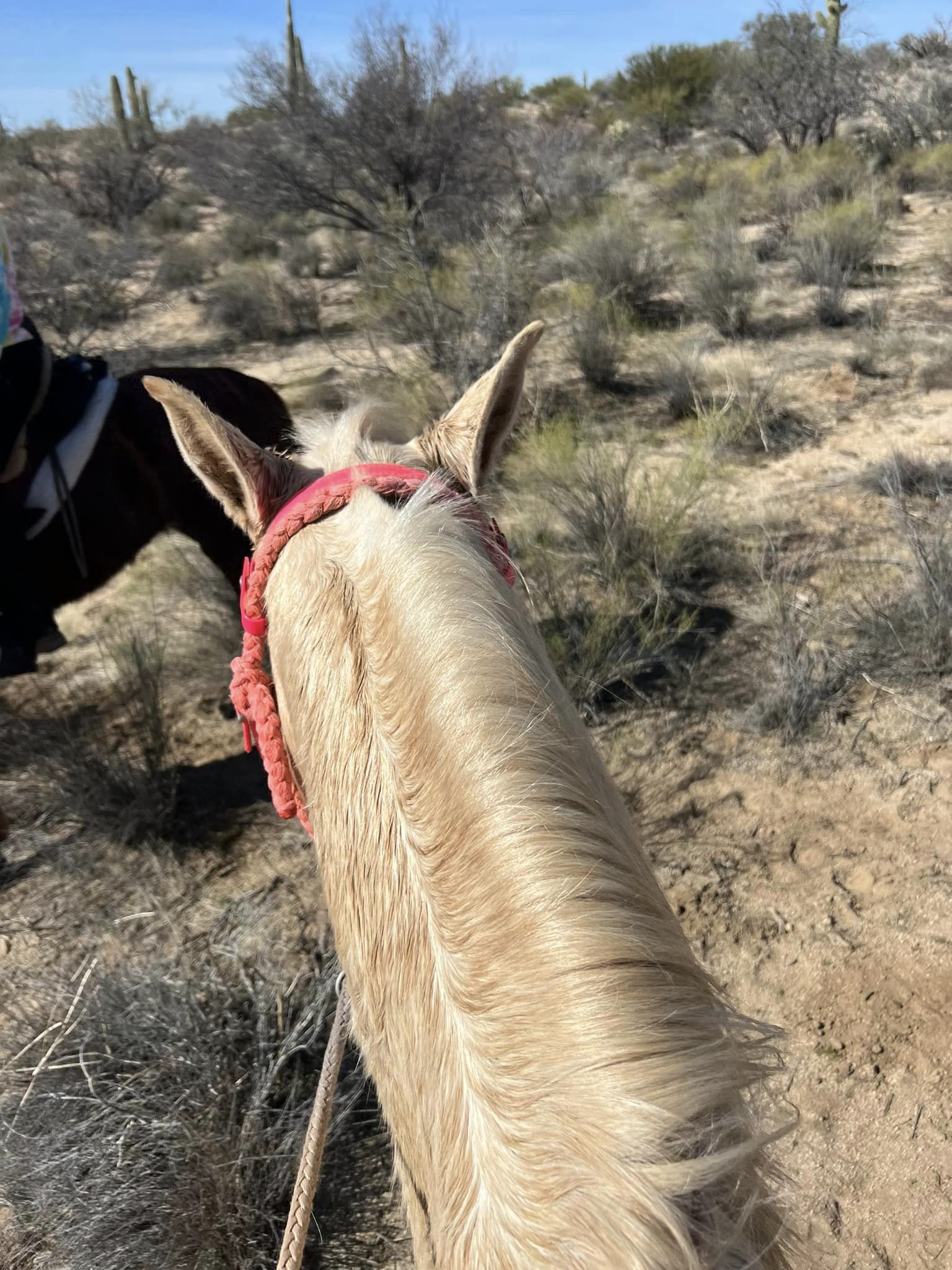 February 6 2023 by Kandace French Contreras
One of my favorite Endurance Rides and I love Boyd Ranch. It's such a great venue. I was excited to ride back-to-back 30 mile rides Saturday and Sunday.
Catherine Peterson and I arrived Friday and checked in Yankee, Frosty and Scarlett for Sabrina Liska, who was arriving later. All the horses looked fab and Yankee was his normal rocket. Yankee is barefoot and wears boots on the front but abhors ANYTHING on his back legs for any period of time so he's bare in the back. (I have a past dislocated hip and helicopter ride to show for it) But he's worn his rear hooves down to nothing so it was boot the backs or don't play. I told him he had to deal with it. I applied plenty of Mueller tape, boots and duct tape and felt good about our ride.
Saturday was perfect. All three ponies loved and acted fantastic. Scarlett led the way all day. Yankee was more manageable being behind Scarlett and Frosty was, well, just Frosty ❤️ Always perfect. The terrain was challenging. Lots of rocks and miles of deep sand. The ponies trotted, gaited and cantered along beautifully. Strong and powerful. Yankee wasn't drinking like I knew he needed but was otherwise a powerhouse. And he was tolerable of the rear boots.
About 4 miles from the finish of the 1st loop, Frosty pulled off one of his front composite shoes. 😬 Bad news since has has very thin soles. But Cathy nurses him through the rocky trail and we got through the 1st loop. All three horses vetted right in and went to the trailer where the ate like monsters! Catherine fit Frosty with a spare boot and off we went for our last loop!
Frosty held his own but Cathy could tell he was tender in the rocks even with a boot. We had the opportunity to canter in the sand but had to ease through the rocks and took our time, averaging about 5.4 mph. We knew it would be close to cut off but we should make it in time. Better a sound horse late than a lame horse on time, we were doing great and still having a great ride on Crocket's Crested Loop, enjoying our horses, each other and the spectacular scenery.
With only 1 mile left to the finish, with Yankee in the rear, we hopped up a little, sandy embankment when Yankee decided he'd had enough! He launched, bucked hard twice and threw out his back legs in every effort to rid himself of the back boots! Luckily my buds heard the ruckus and pulled up as I was getting my Asshole under control, checking my wet pants, and congratulating myself for not lawn darting. Yankee managed to break all the tape and duct tape on one boot and we were close to the finish so I hopped off, pulled that boot, cut the other boots off, and we were back in business. Free of his torturous constraints, Yankee was on fire and pulled on me all the way back to camp!
We made time with 15 mins to spare, all three equines pulsed down quickly and we all vetted out with healthy, happy horses. ❤️
Doc Anderson expressed some concern over Frosty bruising the foot with the missing shoe if he went out again the next day but we'd already elected to pull him from Sunday's race. Yankee still looked fantastic but he literally had no rear hoof to spare and had made his feelings about rear boots abundantly clear. So I opted, reluctantly, to pull from Sunday rather than risk laming him. All three horses went back to the trailer and ate and drank like champions. It was a win for us and slight bummer to not go again Sunday. But we counted our many blessings.
The awards and pot luck were a blast that night. We even had a guest speaker, Robert Long! Robert, at 70-year-old became the oldest winner of the Mongol Derby, a endurance race of more than 600 miles across the Mongolian Steppe! I was fascinated and could have talked to him for hours.
The cherry on top was finding out Yankee and I won the coveted "Turtle Award"! I was elated. For me, it wasn't an award for being the last healthy horse to cross the finish in time, but recognition for persevering, as a team, with my friends, on a tough course, overcoming a lot of challenges, and not giving in. We got it done. 👍
Thank you to all the ride management, volunteers and staff at Land of the Sun and Boyd's Ranch. You aren't just putting on a ride. You are making memories.