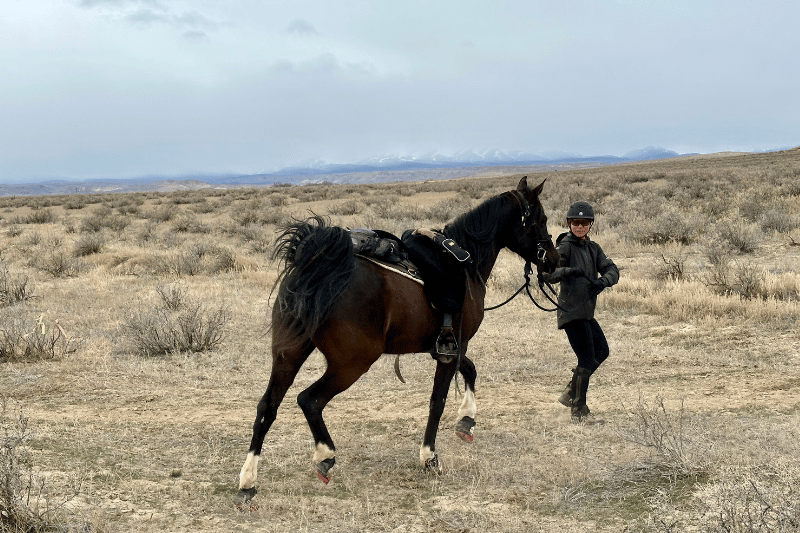 TheSweatyEquestrian.com - Full Story
April 3 2023
by Tamara Baysinger
Ledger pranced past the vetting area with arched neck and flagging tail. He was boiling to let loose. I wouldn't have put it past him to buck. One-rein stops had held him back several times in the last two minutes.
Let's race!
Storm clouds rose, steely and menacing, from their crouch on the horizon. A tide of dust swirled from stamping hooves. Ledger fussed beneath the stethoscope of a blessedly patient vet, trotted out clean, and was pronounced fit to continue.
Alas, we were at the finish.
Had it not been for the incoming storm, with its plummeting temperature and icy rain, I'd have saddled him back up for a post-LD education in the art and science of You Never Know How Far We're Going to Go, Buddy.
As it was, I contented myself with the incomplete, but significant, progress we'd made over the day's 25 miles at Owhyee Tough Sucker.
Signing up for the Limited Distance ride, instead of the 50, was a difficult choice. Ledger has felt strong on our conditioning rides. We've put in about 20 miles per week, split into two rides, since early February. If he had ended last season 50-mile fit, I probably would have gone for it. As it was, I decided to err on the safe side.
So, we enjoyed a lazy morning (as race days go) before a 9:00 a.m. start. I had plenty of time for groundwork, which felt largely unnecessary. Ledger didn't fuss when the 50-milers left, and he remained mellow as LD riders began swirling around the starting line.
I shrugged and hopped on as the front runners hit the trail. We followed, walking on a loose rein. The ribbons led us along a fenceline for a couple hundred feet, then passed through a gate and did a 180 onto a singletrack into the hills. A truck and trailer rattled through the gate right after us, and BAM!
Ledger lost it...
Read more here:
https://thesweatyequestrian.com/ride-report-owyhee-tough-sucker-2023/#comment-311