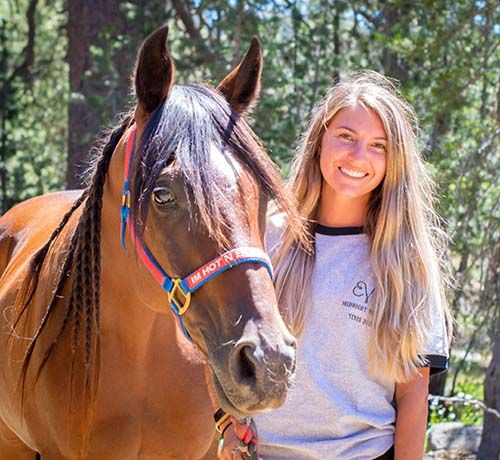 August 2 2023 by Haley Moquin
For those of you who don't know PJs (Freaky) story. Here it is. Heather Reynolds had posted PJs breeding on Facebook stating her new horse would be arriving soon. PJ is a grandson of Okba - my favorite bloodline, a son of French Open, who Heather had won Tevis 2014 on. How exciting for her! I was flying to Florida to do the 3 day 100 with the Reynolds and PJ arrived while I was at their farm in Florida. PJ was a 12 year gelding who was apparently 15 hands with a stick and level. It was very clear PJ was not 15 hands. He is 14.2 with shoes on 🤣 obviously this was upsetting so I was like I'll take him, and we arranged shipping from Florida to Texas.
It was said that PJ was rideable but difficult to mount but he hadn't been ridden in a few years. He had been hanging out in a 40 acre pasture for 7 years in Colorado. Once he arrived in Texas, i began to work with him. He was perfect to saddle, knew how to round pen, and knew cues with the bit. He was reactive and spooky but he seemed to know what I was asking. About a week of ground work, i attempted to mount PJ. He bolted off before i could even put my foot in the stirrup. Fast forward 60 days, I was finally able to mount PJ. He was great our first ride. We walked in the round pen and I was able to get on and off of him safely. During the 60 days, it seemed that once PJ was over something, he never had a problem with it again. The very next day, I had fed the horses dinner. No one was at the barn but I decided to ride PJ for a second time. I got on him and he moved around a bit but for the most part was fine. We started to walk and he tripped. That completely freaked out him and he began running as fast as he could around the round pen. I couldn't stop him. When he did stop, if i made a single move, he would run off again. I was stuck on PJ for about an hour and a half. I was crying and panicking, i was stuck on this horse. Not a good feeling. If i touched my phone, he would run off. There was no calling for help. I ended up grabbing onto the round pen panels and letting him bolt from underneath me.
I called my mom and told her i would never ride him again. Something i forgot to mention earlier, PJ was not ever accepting of being held by someone else for mounting and dismounting, he still isn't to this day. If he feels trapped, he freaks out and bolts off. I attempted to give PJ back to his breeder, who heather had received him from. Heather was wonderful and had offered to pay half of the shipping to get him back to Colorado. His breeder stated that it would be best to euthanize him as he was just too crazy. She had bred him for the track and had him in training from age 3 to 5 and could never get him broke to ride. I tried giving him away to others but no one wanted him, and i do not blame them LOL. I started reaching out to trainers and i kept getting turned down. The trainers were telling me they didn't know how to train a horse like PJ.
I then reached out to Dan Keen and after i described PJ, he said "bring him to the ranch and i will get him right". No hesitation and Dan wasn't worried at all. PJ spent 4 months at Dans. Dan stated that PJ was in the top 10% of most difficult horses he had ever trained. PJ was challenging and one in a million, but he did say that if he had to ride from coast to coast, PJ would be the one to do it. He described PJ as what it felt like to ride 4 horses at once. When i picked PJ up from Dans, Dan told me to ride him every day, get the miles on him, and do not rest him, PJ needed to work. That following October I did my first 50 on PJ. He was amazing. We then decided that we would aim him towards Tevis 2022.
PJ was a challenge every single ride. He was still quick to walk off when I would mount, he was easily bothered by things, he is a horse that all hands and feet need to be inside the ride at all times. I never knew what type of PJ i was going to get. Sometimes he'd stand nicely when i would get on him, sometimes he would spin violently for several minutes and try to run off. PJ was also worse if i mounted him at different places. He is very routine and if he is presented with something different, he would be explosive. In October 2022, i did the Armadillo 100 on him. That morning when I went to get on him, he went bucking and bolting through camp. People were yelling "loose horse", nope, just me and PJ running through camp. I managed to stay on and we had a great day, we won. The initial mount of the day was PJs biggest issue even after all the training. And if you fell off during that initial mount, he was not rideable for the rest of the day. As I got the endurance miles on him, his behavior did improve.
In 1 year, i rode PJ 430 miles just in endurance rides. Yet, still a challenge all the time. I did not want to give up on PJ as he was freaky talented. He had the best recoveries, takes care of himself, and he can really move down the trail. This past spring, PJ decided he was not broke to ride. This is after 430 miles worth of races, a million training miles, and no long periods of rest. He just went back to his old self and was not safe to ride.
He just was not comfortable with a rider anymore and was honestly dangerous again. I debated giving him away because I am currently in Dental Hygiene school and a broke college kid. Training is expensive and it was such a disappointment that after a year and a half, he was back to being a psycho. Im not afraid to admit that I was scared of him again. I didn't want to ride him again. I was so over the walking on egg shells to make sure I didn't scare him in anyway, but it made me sad to give up.
So back to Dans he went. 30 days at Dans and we were back on track. This time Dan had to do some tough love but i was pleasantly surprised when I picked PJ up. Ever since I have picked PJ up, he had stood 100% still during mounting. I have poured a lot of blood, sweat, and tears into PJ. He is like having a child as I cannot leave for more than 5 days because he can't handle the rest still to this day. Coming in the top 10 and winning the Haggin Cup at Tevis is a dream come true. My hard work has paid off and PJ is a champion. I always saw the potential in PJ but at times it seemed like it would be easier to just give up. I am so glad I did not.
Dan Keen (his trainer) always said that PJ was a winner and he was right. PJ will more than likely be a challenge for the rest of his life and I will probably never get to go on a long vacation unless I send him to Dans for the period of time, but that is perfectly fine. He gave me the best ride ever this past weekend and I do just love that little power pony so much even on the bad days ❤️ PJ actually stands for Princess Jeremy as that is what I nicknamed Mr Jeremy Reynolds a Few years ago 🤣 since i got PJ from Heather and Jeremy it was awesome and so funny to name him that as an insider. Freaky shortly became another nickname for him as he is a freak. If i wrote about every freaky moment I've had in this horse, it would be a million word book.