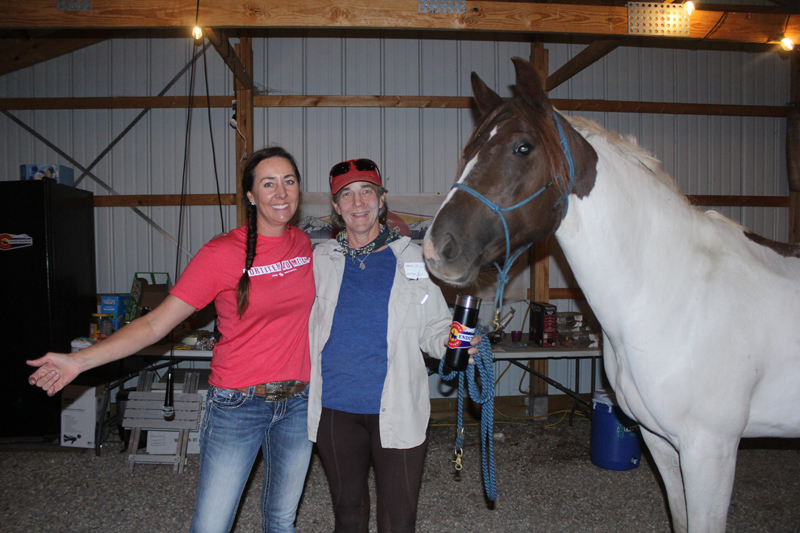 By Ann Scott Wicks
Jicarilla Journey. Journ-Journ. Beautiful Girl. All names for my wonderful Mustang mare. I am so lucky to have this amazing horse in my life. She is kind, sensible, and as sure-footed as they come. And this past week, she gave me her all. She never once hesitated when I made the big ask at the SoCo Spanish Peaks endurance ride to try and ride five days in a row: 255 miles of challenging terrain in some of the most beautiful country I have ever ridden.
There are so many moving parts to a successful endurance ride, particularly one over 1,600 miles from home, that just arriving at ride camp with happy, healthy horses is a win. From there, we took it one day at a time. With my traveling companions, Lynne Gilbert and her horse Calvin, our primary goal was to complete the first day's 50 mile ride. It turned out to be a hotter than expected day, and with the possibility that we might want to ride back-to-back 50's if all went well, we took it easy and rode as conservatively as the horses would allow; they wanted to move out, and we spent a good bit of the day asking them to take it easy and slow down!
The next day felt a bit more challenging with more demanding trail that included lots of climbs and descents, but again, the scenery was spectacular and we got to ride alongside, and then over, one of the many rock walls that define this landscape. At the start of the ride, we joined up with Kelly Stoneburner and Jesse James, who were planning to ride all five days. It was another successful day due in large part to riding with Kelly and Jesse, who knew the trails so well and paced us accordingly. At day's end, another completion and our first time doing back-to-back 50's. This gave us the opportunity to attempt a Pioneer Ride and tackle a third day on trail.
The third and fourth days are a bit of a blur. Each day's rhythm was defined by all the things that had to happen before, during, and after the ride. The "Hellevator" was a highlight of Day Three - an adrenalin blast out of a canyon up steep switchbacks that had us laughing with relief when we got to the top. After successfully completing the three-day Pioneer, the possibility of attempting to ride all five days loomed large, and with Kelly's encouragement, I decided to give it a go. Journey was doing great, and to my surprise, I felt great after each day's ride. I decided I might never have this opportunity again and that I shouldn't pass it up, so we would at least tackle Day Four. When Tenney announced at the ride meeting that night that she thought the Day Four trail was the most challenging, she wasn't wrong! The day was made a bit more challenging due to lack of sleep that night: strong winds blew through camp for hours, rocking the trailer and making it difficult to sleep. Then once on trail, there were lots of big climbs up into the highlands among the aspen groves where where the elk tracks lined the trail, only to encounter "Luke's Limit," a long, slow, unmounted descent straight down the mountain. The horses took great care of themselves all day, eating along the trail and taking long drinks at the many water tanks. Finally, we arrived back at ride camp after a long, tiring day. Doubts about riding the next day surfaced as my girl was tired, and so was I.
But then the next morning at dawn, this normally reserved mare stepped forward to greet and nuzzle me (and no, I was not holding her feed pan!). Here it was, the morning of the fifth day, and completely unaware that I would again be tacking her up for yet another 50 miles, Journey was affectionate and wanted to be beside me. I got choked up. She was tired. I was tired. But we were both willing to give it a go. And go she did. In my semi brain-dead state, I left her hackamore at the trailer when I went to do the morning trot out for the vets. Oh well, I thought, she'll be just fine in the rope halter; it was, after all, day five and she had already traveled 205 miles. How wrong I was! Once she was warmed up and we were out on trail, I quickly realized the rope halter was not going to do the trick. I had so much horse under me and she wanted to move out! I never would have believed it was possible to have as strong a horse on day five as I had on day one, but there she was! Needless to say, I grabbed the hackamore at our first hold so that the rest of the ride wouldn't be a struggle. It was another beautiful day on trail that included the exciting descent of "Pistol Whip" and then lots of long walks and climbs along dusty trails. It was somewhat surreal arriving back at ride camp, and I Ioved that my dog Tripp came running up to greet us as we came off trail. And then during our final vet check, Journey took a step forward and put her face next to mine, her nose against my mouth, our breaths blending as we breathed in sync. I don't know what she was feeling or thinking at that moment, but for me, it was a perfect ending to an amazing adventure, and I will always treasure the trust she placed in me and the steadfast way she carried me over some truly challenging terrain.
All of this would not have been possible without the generosity, support, encouragement, and trail savvy that Kelly and Jesse so willingly shared with me for over 200+ miles of trail, along with Lynne who jumped in to crew for us on days four and five, Cassidy Miller and Helen Gurina who helped trot Journey out the first two days when I twisted my hip after stepping in a hole, and Rob and Pam Talley Stoneburner who also helped crew for us. Then there were the wonderful vets and all the volunteers, the amazing food truck folks who provided us with great meals, and all the loving support from afar from my husband and daughters. Also, a big shout-out and thank you to Tenney Blouin with SoCo Endurance, and all the private land owners who made this ride possible. But most of all, a big thank you and all the love and devotion in the world to my wonderful Mustang mare, Jicarilla Journey, my beautiful girl.