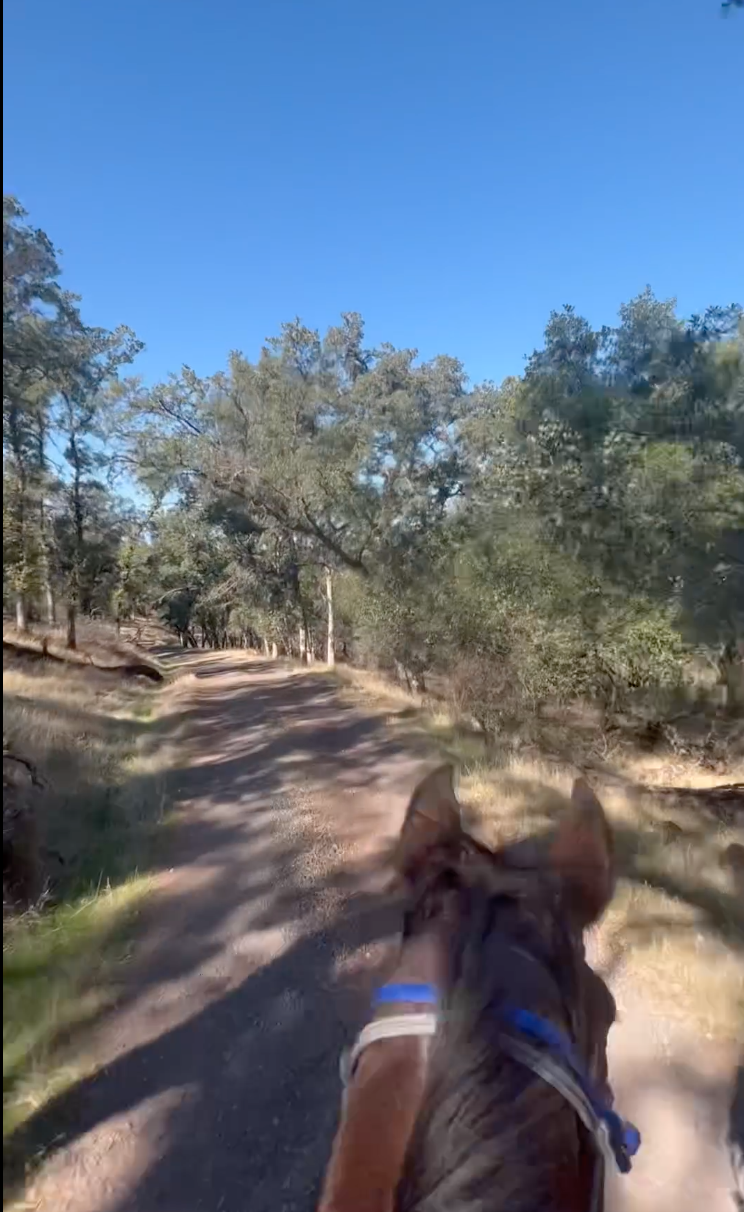 By Mollie Quiroz
November 1 2023
This past weekend was one to remember! I was lucky enough to fly back to Auburn for a few days to compete at Camp Far West in the 75 mile Young Rider National Championship with Mack and ride the 50 the next day with Grit.
After spending the last few weeks helping getting everything organized for the race, I was thrilled for the chance to actually get to ride. Mack's had a big season this year. He did 2 50s to start our season, came in 10th place at Tevis in a very competitive field, and came in 2nd place in the Virginia City 100 7 weeks later also among a highly competitive field. Since VC in September, Mack has been resting in anticipation for our season finale which was the Young Rider National Championship at Camp Far West.
Although the field was small, we knew it would be a super competitive group and that I would have to ride smart and stick to our plan in order to be successful.
I got on Mack early Saturday morning and got him all warmed up so we'd be ready to go once the trail opened. I started the day with Reyna Mero and we moved along at a brisk pace but had a great time talking and exchanging stories. Our horses went together really well and we had a similar ride strategy. We were a few minutes behind Sanoma, who was in first, when we came into the first vet check.
The horses pulsed and vetted and before we knew it, it was time to head back out. We went out on our second loop and once again had a great time. The horses looked great and felt really good.
We came into the second vet check, pulsed, vetted, and I was able to discuss the rest of my ride plan with Sam during my hold. Once I got cleared to go, we decided that it was time for me to start to make my move. Mack and I's competitive side had kicked in, especially after a comment about how we would never catch first place. I knew I had a lot of horse left but I was curious to see how Mack would handle the speed increase over the next two loops.
Mack and I took off out of the vet check to chase down Sanoma who was 5 minutes ahead of me. We started passing people doing the 50 and the 30 which only motivated Mack more. A couple miles in we saw Sanoma and the chase was on. We caught her and rode into the next check with her. Mack ended up pulsing one minute ahead of her horse and that was all we needed!
It came time to go out on our last loop and the race was on! Mack never let off the gas and he felt fantastic. We came across the finish line in 1st place, a good ten or so minutes ahead of the next rider. Mack vetted through and we had officially won the Young Rider National Championship! The icing on the cake was finding out later that night that Mack also won High Vet Score and Best Condition by around 200 points!! It was the perfect end to our season.
Sunday morning came early and that meant it was time to go back out for the 50 mile ride with Tierney and Ryan. I got the chance to take Grit for a spin again and had so much fun! I led the girls through the first loop and that was it! I put them in front and they paced us wonderfully through the ride. They worked together when it came to leading and setting the pace. I was so proud of them and amazed at how far they'd come in the last year. The horses looked great and they took great care of them throughout both days.
The three of us took home 2nd, 3rd, and 4th place with Tierney winning the overall Best Condition aware and Ryan winning the Junior Best Condition award. Thank you to Kimberly Ellis and Katie Stilwell Beloberk for trusting me to race with these awesome kids! They are truly incredible!
This weekend and this season would not have been possible without so many amazing people! First a huge thank you to John Brain and Brain Ranch Horseshoeing for keeping Mack's feet happy all season long! He always felt so amazing and I never had to worry about his shoes!
Also a huge thank you to Dr. Jennifer Elizabeth Mayfield for being the incredible vet that she is. Without her we wouldn't have been able to get to the bottom of the issues Mack has had in the past and I can't say enough about how amazing she has been with getting him to where he is now.
Another big thank you to Cara Choy for ensuring that Mack felt his best all season! It all came together this past weekend and we couldn't have done it without Cara!
We also want to give a big thank you to Specialized Saddles for donating such an amazing award for 1st place! We primarily ride in Specialized and it's always been a dream to win one and this ride provided me with that opportunity!
Thank you to Shawn and Lisa Bowling and Crater Hill Equestrian for everything they do for us! They not only put on the ride and gave us this chance, but also encouraged us and cheered us on throughout the season and made it all possible!
And my biggest thank you goes to Samantha Ellis for pushing us this season to reach our goals and then some, but also encouraging Mack and I to keep pushing and working endlessly to get to the bottom of any concerns I had about Mack. We couldn't have this without you and I'm so happy we were able to bring it home
Now Mack gets the next 6 months off to rest and recover and just be a horse. He's more than earned it!