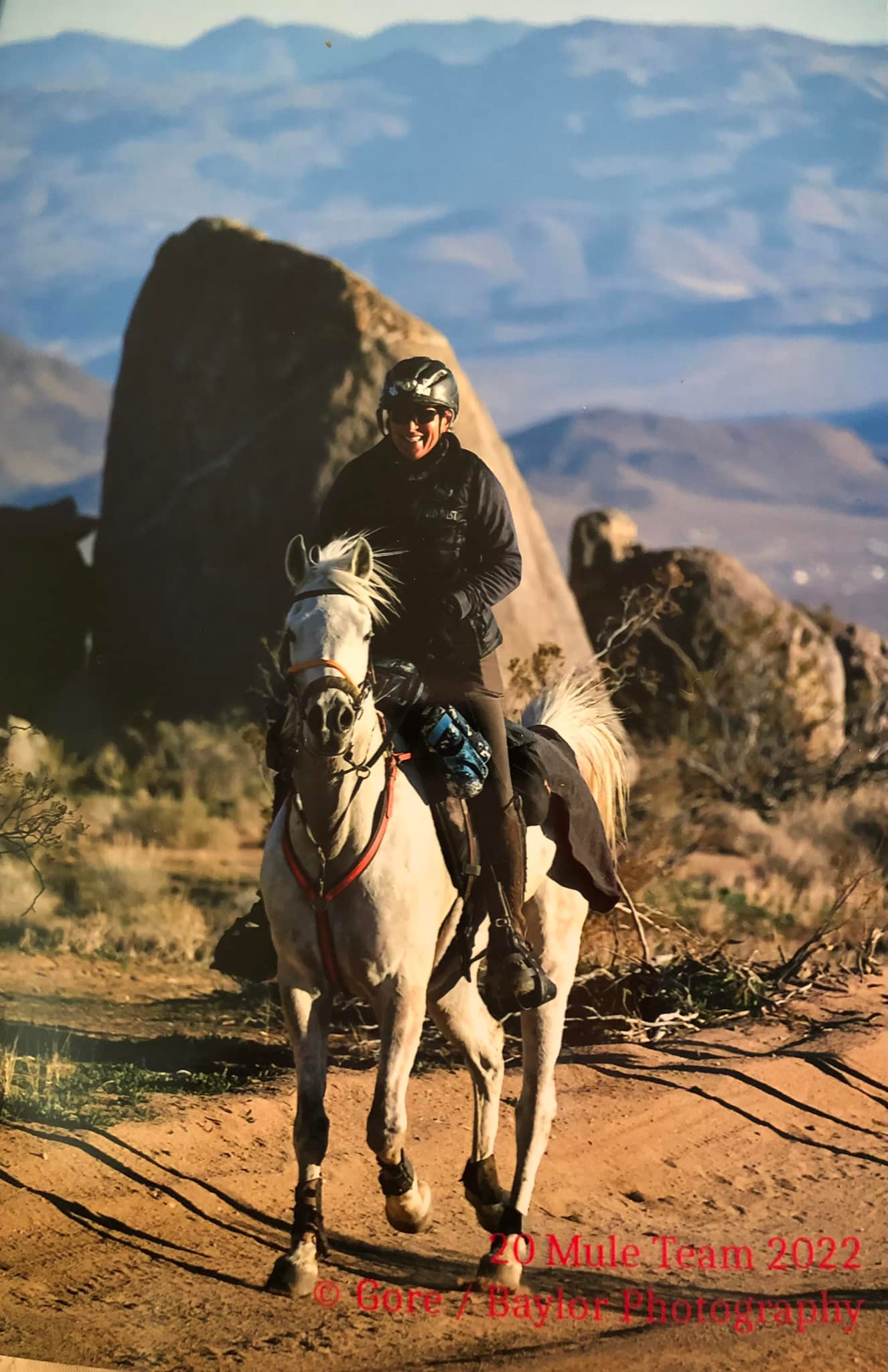 by Nina Bomar
February 27 2022
I asked Andrew Gerhard how long it takes him after he's ridden a 100 miler to forget about all the pain and suffering. He replied… "about a week!" I guess that's why he has now completed 25 100-milers!
I couldn't have been in better hands at my first return to riding 100 miles, after a very long and dry spell. When I initially sent my entry in for the 20 Mule Team 100, Juan asked me… " Why??? Why do you need to do the one hundred miler? What do you need to prove? and on and on he went… giving me every reason to believe that my decision was a foolish one at best.
After some time, I thought about my reply. My answer was simple. "Juan…", I said… "I need to prove to myself that I can still do a hundred miler". His comeback was quick and hysterical, when he blasted me about how we'd ridden 3 & 4 days of 50's wasn't those good enough?? I retorted… "It's not the same honey… 100 miles in one day is a little different challenge and I feel the need to see if it's still possible; nonetheless, if I have it in me, despite the fact that it had been 7 years since I'd completed one.
I had no doubts about my horse Niño doing his first 100. He's a beast and a smart horse who has a work ethic that continues to delight me. He didn't disappoint and while I felt terribly guilty at the 50 mile mark, knowing that we had to go out there and do it all over again, I couldn't think of a better horse to get us through it. I knew in my heart that he had the abilities and the blessings to getter done.
Niño never faltered once, but instead, he gave me the courage when I felt like my own had run dry. I had moments of utter … wtf was I thinking? What did I need to prove? Why would anyone in their right mind ride 100 miles in one day? And lastly…. It's was so fricking freezing cold out there in the desert. Why??? Just why??? Juan crewed us through to the end and he was amazing. He made so many mashes for Niño, fed me sandwiches and snacks, brought us lots of warm blankets at every arrival and he was simply spot on. Everyone wanted tacos but I didn't let him bring the grill, which meant there were a lot of hungry disappointed people but Niño and I had his full attention and we were grateful for all that he did for us.
We had a terrific ride and met some truly wonderful people. We spent most of the day riding with Tracy Hofstrand and her handsome boy Harry but when they rider optioned, she didn't hesitate for a moment to find me friends to ride out with on the last loop. I'll never forget her kindness, her genuine consideration and how she was awake to congratulate us upon our completion.
Many thanks to Andrew, Kelly Williams Stehman and Jax for letting me hook up with them in the final loop, which was in the dark. I really had to hang on and put those big girl panties on. Kelly Williams is a rockstar in her own right and while she herself has now completed 14 100-milers, she's an incredible mentor and a sponsor who really cares. Every time she'd sweet talk her amazing junior, who happened to finish his second 100 miler with the first being Virginia City (with Andrew!), my heart would melt and I'd imagine her pep talking the little girl inside me. It was super special and her words were always encouraging… One time she joked that we were on the Space Mtn ride, when the ground deviated in the pitch of the night and without forewarning. Whoop!…. She exclaimed excitedly, meanwhile I noted that I hate roller coasters. Juan and I like the predictable ones like the log ride...we go to the amusement parks to wander and eat cotton candy… not for the rides.
I prayed lots during our ride, tried to appreciate the dark desert sky with all its amazing stars and I also made an effort to enjoy the ride. It ain't easy and after riding 100 miles, I was questioning my goals, my sanity, but mostly feeling thankful to have made it through and finished. Niño had a CRI of something ridiculous like 46/43 and an A+ for impulsion. I on the other hand looked pretty tore up and don't ever recall feeling so trashed after a ride.
The 20 MT management really put on a super endurance ride and the trail marking was superb even throughout the night. They care about their participants and it showed in more ways than one.
This morning Juan went and brought me a blueberry muffin. It's to die for and he said it was my award. He's also made me a coffee … he says his is county coffee and mine is.. the good stuff