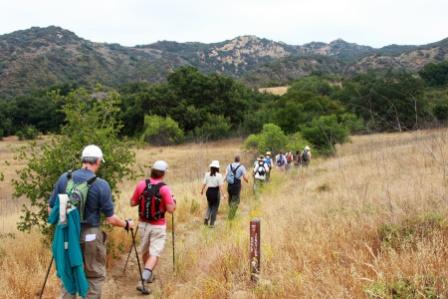 Jim Belsley photo
BACKBONE CHALLENGE RIDE 2016 July 18, 2016 – July 23, 2016
June 30 2016
by Nina Bomar
Five courageous ladies are embarking on a major challenge of skill and adventure in a couple of weeks. The
Backbone Trail Cowgirls are setting out to ride the entire Backbone Trail on horseback as the first group to do so since the trail was completely opened end-to-end and officially designated as a National Recreation Trail. The trail, which goes from Pt. Mugu State Park in Ventura County to Will Rogers State Historic Park in the Pacific Palisades, was officially designated as a National Recreation Trail by US Secretary Sally Jewell and National Park Service director Jonathan Jarvis on June 4, 2016. By averaging about 11 miles each day, their journey will cover the 67 Backbone Trail miles of mostly rugged terrain with some pretty hefty elevation changes along the way.
This trip was spearheaded and organized by Ruth Gerson, 81 yr, who first rode the trail almost exactly 25 years ago. She will be riding her 19 yr old Mustang, Crystal. The other participants are Jeanne Wallace, 73 yr, with her 21 yr old Quarter horse, Dill; Janet Peterson, 63 yr, with her 19 yr old Peruvian Paso, Sunny; Tracey Potter, 53 yr, with her 9 yr old Red Roan, Scooter; and Kimberly Gustafson, 45 yr, with her 12 yr old Spotted Draft Quarter Cross, Chief. These ladies have chosen to do this ride for 4 reasons: to publicize the Backbone Trail as a National Recreation Trail, to inspire others to be adventurous, to demonstrate that age is only a number for horses and riders, and to illustrate the need for equestrian and hiker trail camps in the Santa Monica Mountains!
Their trip will begin at the Ray Miller Trailhead in Pt. Mugu State Park on Monday, July 18, 2016 and finish on Saturday, July 23, 2016. They will camp near the trail each night and have their horses in corrals or high lining them. No hotels for these women! They have a support team of friends who have volunteered to take on various tasks such as pre-riding parts of the trail to identify obstacles, clear brush and downed trees, drive the rigs from campsite to campsite, bring dinners in the evening, meet with water for the horses where the trail crosses roads if it's very hot, and help in any other ways needed.
What an amazing journey this will be! These women will be riding across the spine of the Santa Monica Mountains. The views will be spectacular, not to mention the wildlife and wildflowers. It won't be easy, but they all share a common thread, a sense of humor and a sense of purpose.
California State Parks, National Parks Service and Santa Monica Mountains Conservancy are all strong supporters of this ride and have made every effort to ensure that all goes well. There are 2 non-profit organizations also supporting the ride: Santa Monica Mountains Trails Council (SMMTC –
www.smmtc.org
) and Recreation & Equestrian Coalition (REC –
www.gotorec.org
). Park Watch Report (PWR –
www.parkwatchreport.com
) is a website and phone app for State Parks that is used to improve trails and address safety issues by engaging the public; they are also supporting the ride.
The Backbone Trail Cowgirls will provide a daily update of their adventure on the Backbone Challenge Ride 2016 that will be posted on the SMMTC website (
www.smmtc.org
).