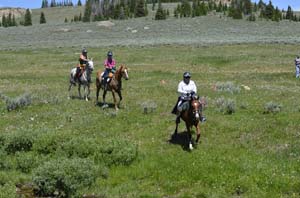 Part 1
It all started with our rather disappointing experience at Tevis last year.Vickie said to us, come and ride the Big Horn with me in 2016. You guys got the horses for it ! ....and so we started planning…
Begin of the summer it was decided that only Anya will ride with me. Katya had other plans for that time and lend her horse Draco to Anya, since Anya's horse Tootsie was rehabbing from a suspensory injury. My friend and college Stefanie wanted to come with us to help. And then Regina contacted me, offering to crew for us… how exciting was that?! Things started to fall into places!
We departed at 7am on July 3rd and made it to the border at 3pm with one rest stop for the horses in between. After getting all the necessary groceries in Omak we pulled into Tiffany's and Bill's place in Coulee City, WA at 7:30pm. What a great place for a layover. The horses were so happy to stretch their legs. On the next day we made it all the way to Karen and Delmer's place near Bozeman, MT. Again, our horses had the luxury of having their own pasture for the night. We enjoyed the hospitality of our friends over a Mexican dinner and Karen's favorite Margarita's. The evening went by way too fast.
The next morning we took our time, knowing that we only had about 5 more hours to drive. We arrived on Vickie and Dave's place in Lowell, WY at 4:30pm. Vickie had already two corrals prepared and our horses were happy to roll in the sand. We spend a wonderful dinner with our friends, discussing our plans for the upcoming ride.
The horses got a rest the next day, while we went to visit the Yellowstone Park.
Part 2
On Thursday morning Vickie loaded her trailer and went to Antelope Butte, a ski hill with a nice camping area. There we met with Niki waiting to mark some trail sections with Vickie. We got our horses saddled as well and off we went. Much to our dismay, Draco and Buddy did not like the stop and go speed and almost exploded under their saddles.
In the evening we enjoyed the most wonderful dinner with gorgeous scenery all around us. And as the sun slowly disappeared behind the mountains, it cooled off quite a bit.
The next morning we took our two horses out again and this time we had a chance to let some of the steam off. They felt so much better after. At around 2 pm we packed and drove down to Shell. Vickie stopped half way to show us the beautiful Shell Falls.
We settled at the Ride Camp around 3:30pm. It was hot and dusty with a thunderstorm brewing above us. We vetted our horses in just as the rain hit.
Regina drove in and we were so happy to see each other. She made crew arrangements with my friend Stefanie. Who felt much relieved not being left alone in that scary crew situation. I was glad Regina took Stefanie under her wings.
In the meantime Karen came with her portable Margarita Bar and we tasted her newest creations. Everybody was in such an upbeat mood. Then we had a nice dinner provided by the ride management followed by the ride meeting.
Some last minute packing and re-packing took until about 9:30pm… and then… we went to bed…
Part 3
The morning came quick. I am sure many riders hardly even slept. At 2am I was up feeding. Our horses were eating like champs. A good sign! I was surprised how good our horses handled to be tacked up in the pitch black night with flash lights going on and off in every direction.
The ride started at 4am. Vickie came over to our trailer and the three of us waited patiently until most of the riders had left. And then we got going…
Vickie set a really good pace and we were zooming by several riders. After a few miles the visibility improved with the morning dawn. Our horses moved along with no tension. After 13 miles or so of going through the badlands we had a vet trot by. And what did they say as we left!?... Happy climbing!!!!
And climbing we did. We had to cross 3 canyons, apparently that the hardest part of the whole ride. …little did I know…! We hand walked our horses down the canyons and were riding them up again. It was tough!!! For horses and riders!! At one point my horse Buddy lost his grip and slid down the trail with me. I nearly lost my nerves. Those are trails for mountain goats, I thought.
After we came out of the last canyon we realized we had spent more time than we had planned on. Vickie kept on pushing us to the first vet check. She certainly knew why. I was relieved to see our horses pulsing down so quickly.Our crew team Regina, Virginia andStefanie were waiting for us, took the horses out of our hands fed them and let them graze after. The ride management provided breakfast for everybody.
Time was flying by and we saddled and had to leave for the second loop. We were able to make some time at the beginning of that loop until we came into the Antelope Butte area. I was surprised that our horses started to adjust to those rocky trails so well.
At the second vet check most of the riders came in close together. Our horses again pulsed down immediately. The vet looked at me and said "you have a lot more horse than you think". And with a grin on his face he added, "sorry but you have to go out again". Our wonderful crew took care of us again. Lunch was provided too but we weren't hungry.
The third loop was the "(in) famous" shag nasty. (Sort of) famous for its boulders and ravines. But mostly for its spectacular views. We let Vickie go ahead. Our horses could just not keep up with Dancer's power trot. As we left VC 2 a storm hit, just as we reached the plateau. It almost blew me out of my saddle. Our horses were not impressed.
And we were climbing and climbing again. The view on top of this mountain was stunning. Shortly after we were descending… (straight down a ravine), into a nice grassy valley with a creek. Now, we were close together with several other riders. Our crew came to a remote spot on the trail and gave water to all horses and riders. Thank God,Regina knows the back roads. Everybody so appreciated it.
Then the seven of us kept going with Peter setting a nice speed. When we arrived at VC 3 we were catching up with the front runners. Again, our horses pulsed down quickly. They ate much better at this vet check. The hold was reduced to 40 min to make sure everybody would finish in time. We pushed our horses as long as we could still see and slowed down when it got dark.
The infamous slick rock section of this last loop slowed us down drastically. We also got lost several times. Regina and crew came to Trapper Creek to give our horses water, since there was none on this trail. Oh, did they suck those buckets dry. With new energy we took on the last 7 miles and finished with ½ hr to spare. Our horses passed the last VC with a 44/48 HR. The vet was asking if they had even done something.
And then it sunk in, we completed the Big Horn 100!!! It was an amazing feeling. Our wonderful crew team helped us until the very last minute.
We tucked the horses in and went for a short nap, while the sun came up already on the horizon. Virginia and Regina slept in the truck. Before 7am, Regina knocked on our door greeting us with Baileys for our coffee. We went to the awards ceremony where Anya received her Big Horn buckle as the first and only junior.
Words cannot describe how thankful we are for all the help, motivation and encouragement. It was an incredible experience. The Big Horn 100 is the real endurance ride.
More photos of the ride at:
http://www.endurance.net/international/USA/2016BigHorn/